It's a common pest, with an average of 65 inhabiting a typical home in this area.
But the first reaction of most homeowners who want to get rid of brown recluse spiders -- spraying pesticides -- may actually make the problem worse.
While pesticides kill other organisms, they typically don't harm the brown spiders. In fact, new Kansas University research shows pesticide applications may actually help the spiders thrive.
That's because the spider is a scavenger.
"If they are eating the dead things, it's pretty obvious what needs to be done," said Jamel Sandidge, a KU doctoral student in ecology and evolutionary biology. His new research indicates the spiders prefer dead prey over live.
Sandidge studies the spider not only in labs but in private homes. During the past few years he has tracked a variety of the spider's activities in about 400 homes in Kansas, many of them in Lawrence.
Sandidge's most recent study showed the brown recluse fed on the carcasses of dead insects. Many homeowners use pesticides but don't clean up insect carcasses, creating an open meal for the brown recluse, Sandidge found. His study appeared in the Nov. 6 edition of Nature magazine.
"I kind of suspected it the whole time, but actually doing (the study) made me realize it was more clear than I thought it was," Sandidge said.
And leaving insect carcasses lying around the house may even attract more brown recluses, he said.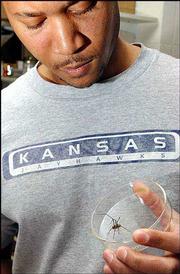 "You've got to get out the vacuum or the broom and sweep them up," Sandidge said. "Most people just leave them on the floor."
The brown recluse is difficult to kill, said Aaron Wolcott, owner of Advantage Termite and Pest Control in Lawrence. Pesticides have to be absorbed some way into the spider's body. Glue boards are one of the more effective ways to get ride of the spider, he said.
"We get a lot of calls, especially in the summer, about them," Wolcott said. "You do have to get rid of the other insects to take away their food source."
Many routine household cleaning products are effective at killing the brown recluse, Sandidge said. Soapy water, Clorox, Windex and any ammonia-based compound will work.
"We don't exactly know what is in these that's killing these things but it's probably water," he said.
Permanently getting rid of the brown recluse may take time and a study of what they are doing in a house, Sandidge said.
He also is in the process of studying the spider's bite. Although the bite of a brown recluse leads to a painful and nasty sore, it is rarely fatal. Yet Sandidge estimates he's handled 40,000 live spiders of various types without being bitten.
"They're not exactly prone to bite," he said. "There are certain places on the body where you poke them and the fangs come out whether they want them to or not."
Brown recluse bites usually occur when someone rolls onto the spider in bed or sits on one in a chair. The fangs come out and so does the body fluid, Sandidge said.
Shake out bed sheets and blankets before getting into bed and check gloves and shoes before putting them on, Sandidge said.
"The fear of brown spiders is warranted," he said. "They're pretty nasty."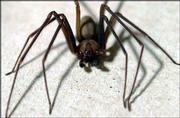 Copyright 2018 The Lawrence Journal-World. All rights reserved. This material may not be published, broadcast, rewritten or redistributed. We strive to uphold our values for every story published.