One of downtown Lawrence's landmark buildings is about to get new life.
An investment group led by the owner of a Lawrence recording studio has signed a contract to purchase the Scottish Rite Temple, 1001 Mass., and convert it into a restaurant and entertainment venue.
Jerry Johnson, owner of Lawrence-based Neighborhood Studios, confirmed Wednesday that he had a contract to purchase the 92-year-old, 22,000-square-foot building, which is one of downtown's most distinctive because it features an Egyptian Revival-style facade.
Johnson said he planned to use the building -- and its 275-seat auditorium -- to present plays, dinner theater, weddings and other live performances.
"I guess it would be similar to what Liberty Hall has to offer, but on a smaller scale," Johnson said. "Lawrence is just such an art-rich town, and this building is set up perfectly for the presentation of the arts.
"That's the natural use of that building. To do anything else in that building would require major changes to be made to it, and I don't think anybody wants to see that."
Johnson said the investment group included two partners, but he declined to identify them. He said they planned to leave the interior of the building "nearly exactly the same." The only changes anticipated for the building's exterior are those needed for compliance with the American with Disabilities Act.
Plans for the restaurant are still being developed, Johnson said. Johnson has applied to city officials for a waiver that would allow the business to serve alcohol in the building. City commissioners would have to grant a waiver because the temple is within 400 feet of the First United Methodist Church. Johnson, though, said he hoped residents wouldn't view the business as a typical downtown bar.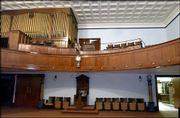 "By no means should it be classified as a night club or a bar in my opinion," Johnson said. "We're applying for a liquor license because it is appropriate to have alcohol at an event like a wedding or a dinner theater."
The Lawrence-area Freemasons decided to sell their longtime temple and meeting hall in May. Members of the fraternal organization said they no longer needed a building that was so large or costly to maintain.
Doug Brown, the building's listing agent with Coldwell Banker Commercial McGrew Real Estate, said the Freemasons had begun searching for a new meeting hall.
Brown said the sale of the temple was expected to be completed in early 2004. Terms of the deal were not disclosed, but the asking price for the temple was $775,000.
The deal also includes about 13,000 square feet of office and retail space immediately south of the temple building. The asking price for that piece of property was $600,000.
Attempts to reach Tom Wilkerson, executive secretary of the Scottish Rite of Freemasons in Lawrence, were unsuccessful.
Copyright 2018 The Lawrence Journal-World. All rights reserved. This material may not be published, broadcast, rewritten or redistributed. We strive to uphold our values for every story published.