Philadelphia — The Eagles are becoming quite a comeback team.
For the fourth straight week, Philadelphia won a game in which it trailed or was tied in the fourth quarter, rallying to beat Green Bay, 17-14, in the final minute Monday night at Lambeau Field.
"This team showed its character, it's mental toughness," Eagles coach Andy Reid said Tuesday. "It wasn't the prettiest game, but the guys persevered through it."
After struggling through the first three quarters, the Eagles' offense scored two touchdowns in the final 10 minutes, including Donovan McNabb's winning six-yard TD pass to Todd Pinkston with 27 seconds left.
"In the first half, there were opportunities to make plays and we just didn't make them," McNabb said. "In the second half, guys challenged themselves to go in and make that big play. And what you saw was a team that was determined."
The victory allowed the Eagles (6-3) to stay one game behind the Dallas Cowboys in the NFC East. After starting the season with two losses at home, the Eagles have won six of seven and are in position to make a run at their third consecutive trip to the NFC championship game.
Only the Cowboys and Carolina, both 7-2, have more wins than Philadelphia, which finished 12-4 and earned home-field advantage throughout the NFC playoffs last year.
"It was a real big win for us," left tackle Tra Thomas said. "We just kept fighting. We never did give up even when we were down. It took us awhile to get things going, but we fought to the end."
McNabb, heavily criticized for his poor performance in the first six games, had his third straight solid effort. He finished 15-of-31 for 198 yards, one TD passing, and added 26 yards rushing and his first TD on the ground this season.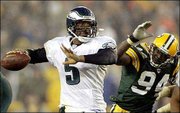 On a rainy night, neither McNabb nor any of his teammates made a turnover. Meanwhile, the Packers lost two of six fumbles, and Brett Favre threw one interception.
McNabb has completed 53 of 87 passes (60.9 percent) for 658 yards, three TDs and one interception in the last three games.
"Donovan is doing a great job," wide receiver Freddie Mitchell said. "For all the booing I heard, he's doing a great job. He's our leader. We know he gives us a chance to win. He's kept his head straight through thick and thin."
Up next for the Eagles are the rival Giants (4-5), who are coming off a disappointing 27-7 loss to Atlanta, a team that had lost seven in a row and played with its third-string quarterback.
Copyright 2018 The Associated Press. All rights reserved. This material may not be published, broadcast, rewritten or redistributed. We strive to uphold our values for every story published.