Ottawa — Area military veterans are being saluted this weekend in Ottawa, and Stan Nichols appreciates the tribute.
Serving in the military has been a tradition for generations in Nichols' family. That's why Veterans Day has always been more than just a holiday to them.
"This community has always been ready to support the military," said Nichols, an Ottawa resident and a first sergeant with the 127th Field Artillery of the Kansas National Guard. "They understand why we do what we do."
Veterans Day is Tuesday, but it was being celebrated Saturday in downtown Ottawa with a parade along Main Street and a ceremony at the Franklin County War Memorial.
At Forest Park, visitors saw a display of military vehicles and helicopters. The park also was the site for Civil War and World War II battle re-enactments.
Nichols, a gunner on an M109 Paladin self-propelled howitzer, had joined other family members at the park as they gathered around a Black Hawk UH-60 helicopter flown by his son, Chief Warrant Officer 2 Brandy Nichols, a member of the 108th Aviation Regiment of the Kansas National Guard.
"It's user friendly," Brandy Nichols said of the helicopter.
Brandy Nichols, who returned three months ago from duty in Bosnia, defended the helicopter, even though a Black Hawk was recently shot down in Iraq.
"Just because it gets shot down doesn't mean it's a bad helicopter," he said. "Those things are going to happen."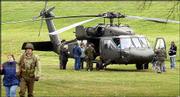 The helicopter caught the eyes of several children who sat in its pilot seats and stared at the maze of switches and levers on the control panels. Many wished they could ride in it.
"It's cool," said Joey Liggett, 5, who was wandering among the displays with his dad, Bill Liggett, Ottawa.
"I think it's pretty neat to see how powerful our military really is," Bill Liggett said.
Veterans Day activities continue today in the park, leading off with a 9 a.m. Civil War church service followed by Civil War battle drills from 10 a.m. to 11 a.m. and a Civil War battle re-enactment at 1 p.m. At 2 p.m. in Ottawa Municipal Auditorium, a USO-style show will be performed.
Several Veterans Day ceremonies are planned Tuesday in Lawrence.
Capt. Rich High, a Kansas University professor of naval science, will be the keynote speaker during an 11:11 a.m. ceremony at Dorsey-Liberty Post No. 14 of the American Legion, 3408 W. Sixth St.
At 4 p.m. Kansas University will observe the holiday with a ceremony at the flagpole in front of Strong Hall. At 4:15 p.m. retired Air Force Col. James Riley will speak in the Kansas Union's Woodruff Auditorium. Riley is a World War II bomber pilot from Derby.
At the end of his speech, Riley will light a lamp that will be carried to KU's Vietnam Memorial for a 24-hour vigil that begins at 6 p.m.
The American Legion is offering a free way to express appreciation to the thousands of troops deployed in Iraq.The organization has special greeting cards at its Web site, www.legion.org, that represent each branch of the military and play a service song when opened. The cards are low bandwidth, so troops overseas can receive them. The cards also have space for personalized messages.This is the fifth year the organization has performed this service. Cards may be sent through Wednesday.
Copyright 2018 The Lawrence Journal-World. All rights reserved. This material may not be published, broadcast, rewritten or redistributed. We strive to uphold our values for every story published.