College recruiters were hot on Adam Barmann's trail before his senior season at tiny West Platte High in Weston, Mo.
Kansas University football coach Mark Mangino offered the quarterback a scholarship in June 2002, beating Purdue, Missouri and others to the punch.
A year later, Brian Barmann's senior season came and went without a single scholarship offer from a Division I program.
"He wants to go to KU and be with his brother," said their father, Mike Barmann, "but as of yet, no offers."
No one could have blamed Brian Barmann if he had failed to live up to the standard set by his older brother, who was a three-sport all-state athlete before moving on to KU. Adam Barmann ranks third all-time in Missouri high school history in pass completions and passing yards.
Brian Barmann didn't just put himself in Missouri's prep record book, he rewrote it. The 6-foot-4, 220-pound receiver and defensive back finished his high school football career Friday night as Missouri's career leader in receptions, receiving yardage, touchdown receptions and interceptions.
The Prep Stars All-American and three-sport all-state selection has received offers from small colleges but is hoping something bigger develops before national signing day in February.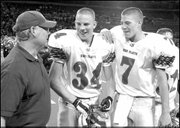 "Just like pulling Adam's red shirt last week, I'm behind Mark Mangino whatever he decides," Mike Barmann said. "I think he's a great coach. I'm kind of surprised they haven't offered, but that's the way it goes."
Brian Barmann has had plenty of calls from major college coaches. KU assistant coach Brandon Blaney phones weekly, as do coaches from Colorado, Oklahoma State, Kansas State and Missouri. He'll make a visit to OSU Nov. 15 when the Cowboys play host to his older brother's team.
The younger Barmann has 4.6 speed in the 40, and his father said academics aren't an issue. So why aren't schools knocking down the senior's door?
"I think the thing that scares people off is we're from a small school," Mike Barmann said. "They think we don't play good competition."
That doesn't appear to be a factor for Mangino, who has signed two West Platte products -- Adam Barmann and red-shirt freshman Kyle Knighton -- in his first two recruiting classes at Kansas.
If KU doesn't offer Brian Barmann a scholarship, it's possible the brothers could end up on opposing Big 12 Conference teams. That means Adam Barmann (6-4, 210) could some day have to run away from his little brother.
"The thing about Brian is he could play two or three different positions," Mike Barmann said. "Some people in Weston think Brian's more athletic than Adam. He's going to be a lot bigger and stronger than Adam."
Copyright 2018 The Lawrence Journal-World. All rights reserved. This material may not be published, broadcast, rewritten or redistributed. We strive to uphold our values for every story published.