Coronado, Calif. — With "California Dreamin"' blasting from the speakers, thousands of sailors streamed from the USS Nimitz on Wednesday and waved to their loved ones after an eight-month deployment to the Persian Gulf.
The Nimitz became the last aircraft carrier sent home from Iraq when it pulled into port in the San Diego Bay. The 6,000 sailors were met with embraces and tears of joy as they saw their friends and family members for the first time in months.
"I couldn't wait. I was up there on the ship dancing," said Petty Officer Mauricio Andre, 24, cradling his 7-week-old daughter, Gabriella, who wore a blue velvet dress and a bow in her hair.
The nuclear-powered carrier led a strike group that included the USS Princeton guided missile cruiser and the USS Bridge combat support ship. It joined five other carrier battle groups in the Persian Gulf to form an unprecedented floating air force within striking distance of Iraq.
Many of those on the pier had been waiting since before dawn.
Cloressa Orr, 22, came prepared with a sign painted with red lips and Xs and Os, to attract the attention of her husband, Petty Officer Thomas Orr, 23.
She stood with her 2-year-old son, Trenton, and 6-year-old daughter, Samantha, who carried a sign that said "I love my daddy."
"I want him to come home," she said. "There's just so much going on, I need him here."
Sixty-four women with children born while their husbands were deployed lined up with strollers near tents where troops were meeting their babies for the first time.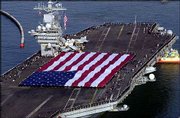 Stephanie Ayala, 18, said she was talking to her 20-year-old husband, Airman Robert Ayala, by telephone when she went into labor and he was on the phone for much of the delivery.
She painted her house in Hacienda Heights and focused on her newborn, Nathaniel, to keep from worrying about him
"It's been hard," she said, wearing a white Navy sailor's outfit complete with cap. "You have to keep very busy, or else I knew I was going to go nuts."
During the deployment, aircraft from the Nimitz flew more than 6,500 missions. It was the carrier's first deployment since a major overhaul in 1997, and its first since relocating to San Diego in 2001.
Nimitz Capt. Bob Gilman said the sailors heard about the Chinook helicopter attack in Iraq that killed 15 soldiers Sunday. He said the news "sort of takes the wind out of your sails."
"This is not a done deal. We've got a lot of missions to do. The world is an unstable place," Gilman said. "We're ready to do our job."
But first, he said he planned to enjoy some quiet time with his wife, Eliza, and 17-year-old daughter.
Copyright 2018 The Associated Press. All rights reserved. This material may not be published, broadcast, rewritten or redistributed. We strive to uphold our values for every story published.