Fort Worth, Texas — TCU did just enough one more time to remain undefeated and continue the debate about whether it deserves to be part of the Bowl Championship Series.
"The difference in that game was about three inches," coach Gary Patterson said after the 13th-ranked Horned Frogs beat Louisville, 31-28, Wednesday.
The Frogs didn't have the win until Nate Smith's 44-yard field goal attempt on the final play of the game bounced off the crossbar. That was his third miss in the second half
"It looked like it was right on," said TCU quarterback Brandon Hassell, who passed for 251 yards and a touchdown while running for 61 yards and another score. "My heart was beating fast. When it hit the crossbar, I just felt joy."
And an incredible sense of relief after the Frogs' fifth three-point win this season.
TCU (9-0, 6-0 Conference USA) and Oklahoma (9-0), the No. 1 team in every poll, are the only undefeated teams left in major college football. Both have 11-game winning streaks.
Smith, who failed on a 22-yard kick in the third quarter, had also missed a 47-yard attempt well short with 2:36 left. But TCU wasn't able to run the clock out.
The Cardinals got the ball back at their 20 with 55 seconds left and no timeouts. Stefan LeFors completed passes of 10 and 19 yards to J.R. Russell, then on fourth-and-15 scrambled away from pressure to find Robert Haskins for 29 yards to the TCU 27 to set up Smith's attempt.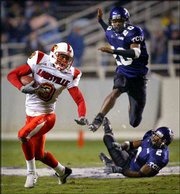 LeFors finished 31-of-46 for 459 yards with a touchdown, and ran for a 9-yard TD on a fake field goal in the fourth quarter. Lionel Gates had nine catches for 134 yards, and Russell caught eight passes for 119 yards.
TCU is 9-0 for the first time since 1938, when the Frogs went undefeated and won their only national championship with quarterback Davey O'Brien.
The Horned Frogs are ninth in the BCS rankings, the same spot they reached in 2000 after a 7-0 start. They will have to finish three spots higher to be guaranteed a berth in one of the four lucrative BCS games.
"They shouldn't have anything left to prove to anyone," Louisville coach Bobby Petrino said. "Everybody they play, they beat."
Smith had made 13 of 14 field goals, including 21- and 26-yarders in the first half before his three misses. His only miss before Wednesday had been a blocked 47-yard attempt against South Florida.
"In no way is this loss all his fault," Petrino said.
Copyright 2018 The Associated Press. All rights reserved. This material may not be published, broadcast, rewritten or redistributed. We strive to uphold our values for every story published.