Dozens of children are on a waiting list for the Lawrence school district's preschool program for at-risk kids, officials said Monday.
Cris Anderson, coordinator of early-childhood education in the district, said the 125 slots for disadvantaged 4-year-old children were filled at the East Heights School facility.
"I'm guessing there are another 40 kids who would easily qualify for our program," she said. "We don't have any available space in the building."
Meanwhile, a new report from Georgetown University researchers is showing how effective prekindergarten programs can be.
The researchers found that in a Tulsa, Okla., preschool program test scores for students who had participated one year increased an average of 16 percent.
Hispanic students showed the most improvement, with their overall scores climbing 54 percent. Black children showed a 17 percent increase in scores. Participation in the program had no remarkable effects on white children.
A similar pattern emerged when students were broken down by economic status. Children eligible for the federal reduced-price lunch program increased language scores almost 35 percent.
Anderson said the Lawrence district's assessment of students in its preschool program also showed intervention improved students' preparation for kindergarten.
"We've said all along that it was going to have a positive impact on children, and it has," she said.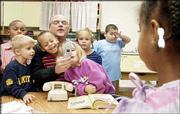 In August, the Lawrence district consolidated six preschool sites into East Heights, 1430 Haskell Ave.
In addition to 125 children in the Readiness Program, the site serves more than 20 children in Even Start. That's the infant to prekindergarten program that also enrolls parents in adult education courses. There are a handful of special-education preschoolers there, too.
Squeezing 40 more students in the state-funded, at-risk program at East Heights would require two more classrooms, Anderson said.
In Oklahoma, the preschool program is financed through the state lottery. Last year, 494 of the state's 543 school districts were receiving state money to participate. Those preschools -- half-day and full-day -- are open to all children.
Georgetown researchers concluded universal access was an important factor in the success of Oklahoma's program. Not only did the open system help foster broad public support, researchers said, the presence of advantaged children in the classrooms helps disadvantaged students excel.
Anderson said she had mixed feelings about universal access to the preschool program in the Lawrence district.
"Part of me thinks our attempt to provide preschool education for children is part of a community effort," she said. "On the flip side, it would ... build that first link to schools in that preschool setting."
Anderson said she endorsed a requirement in Oklahoma that prekindergarten teachers had to have a certificate in early-childhood education.
"Our teachers are Kansas certified," she said. "When we designed our program, we felt that was important. We're not day care."
Copyright 2018 The Lawrence Journal-World. All rights reserved. This material may not be published, broadcast, rewritten or redistributed. We strive to uphold our values for every story published.