Here's a script for those who like a superhero story.
A guy -- let's call him Tyler Morgan -- spends all season behind the scenes, doing his job, protecting the playmakers and never complaining when others get the glory.
With the season on the line, Morgan is suddenly Superman, making catches, providing big plays and leading his team to its biggest victory of the season.
The Free State High football team topped Washburn Rural, 19-3, Friday in a must-win showdown at Kansas University's Memorial Stadium.
Had the Firebirds lost, their season would be over. Since they won, they clinched a spot in the Class 6A state playoffs.
Had Morgan been a little smaller than 6-foot, 220 pounds, he might have been carried off the field on his teammates' shoulders. Regardless, he was all but floating after catching three passes for 71 yards and a touchdown and returning an interception 73 yards for another touchdown.
"It felt amazing," Morgan said. "I've only had a few touchdowns in my life."
None of which had come this year. Morgan has played offensive line most of the season, thanks to a depleted Firebirds squad that needed him to protect quarterback Caleb Harvey and open holes for the running game.
When regular tight end Tyree Payne was sidelined by injury this week, Morgan got his chance to make plays. And boy, did he.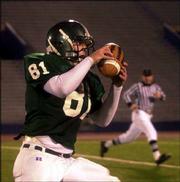 With Free State's offense stumbling early, Harvey and the Firebirds looked to Morgan to dig them out. A 41-yard touchdown pass later and the Firebirds had a 6-0 lead early in the second quarter. It was Morgan's first catch of the year.
"Tyler is a threat because he has such great hands," FSHS coach Bob Lisher said. "We've had to play him at guard because we were short at the offensive line. We finally came down to the fact after we lost Tyree that we needed guys that could catch the football and run with the football."
And if Morgan didn't prove he could do both on offense, he confirmed his abilities on defense. With Washburn Rural (4-5) down 6-3 and threatening to score early in the third quarter, quarterback Kyle Cochran scrambled right, looking for an open receiver. Hurried by sophomore Brett Lisher, Cochran unleashed a throw right to Morgan, who intercepted it and rumbled 73 yards for the back-breaking touchdown.
The Junior Blues didn't threaten the rest of the game.
"He was moving around to the outside," Morgan said of the interception. "Brett was blitzing in and I was trying to keep him contained. Brett hit him and he just tossed it right to me."
For good measure, Free State (5-4) added another score late in the third quarter when junior Jamie Resseguie capped a 13-play, 68-yard drive with an 11-yard touchdown.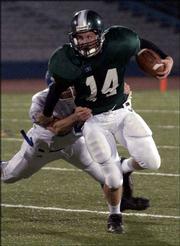 Free State's firepower -- what wasn't sitting out because of injury -- for the most part showed up Friday. Defensively, the three points allowed was the lowest total since Free State shut out Olathe South, 6-0, Sept. 12.
Offensively, senior Cole Douglas had 99 yards on 23 carries, and Resseguie had 80 yards on 15 carries. Harvey, after stumbling to six straight incompletions to open the game, completed eight of his last 10 attempts for 115 yards.
"Caleb settled down," Lisher said. "He struggled early on, but under a lot of pressure, made some big-time throws that we had to have happen."
It didn't hurt, of course, to have a big, bruising offensive lineman itching to be the superhero. How many fireworks Tyler Morgan has left in the system is anybody's guess. But Olathe East, Free State's opponent Friday, might find out.
"Since the beginning, we've been wanting to go the state tournament," Morgan said. "We want to make a dent in it for once."
With the Man of Steel making the big plays Friday, the Firebirds are now on their way.
Copyright 2018 The Lawrence Journal-World. All rights reserved. This material may not be published, broadcast, rewritten or redistributed. We strive to uphold our values for every story published.