Mexico City — Thousands of Mexicans who die in the United States are flown home for burial every year in their native land, where relatives gather at cemeteries on the Day of the Dead with flowers, candles, a favorite meal and nip of alcohol for the spirits of loved ones.
In a nation where ancestors are honored and death is regarded as a constant presence, the Nov. 2 tradition underscores Mexican immigrants' resistance to being buried abroad, migration experts and funeral homes say.
More than 300 bodies arrive each month at the Mexico City International Airport, just one port in a booming cross-border funeral trade.
"Nearly all migrant workers are sent to Mexico after they die," said Salvador Calderon, manager of a funeral home in Guadalajara that ferries the dead from the airport to towns across the central highlands. Even among people who have become nationalized U.S. citizens or have legal residency, "adults always say they want to be buried in their place of origin," he said.
The importance of homeland and family is clear on the Day of the Dead, which mixes Indian traditions and the Roman Catholic Church's All Souls' Day.
In Mexico, viewing of the dead lasts all night and funeral rites can extend for nine days.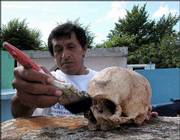 "Bringing (deceased migrants) back here is a way to have them close to celebrate the Day of the Dead and be with them for at least one day," said tractor operator Julian Rivera of Pozos, a town of 4,000 people 180 miles north of Mexico City.
Rivera said that on Sunday he and his family would visit the graves of his brothers Roberto and Serafin, among 18 migrants who died in May after being trapped in a sweltering, airless tractor-trailer in Texas.
Many migrant workers travel back and forth between towns like Pozos in Guanajuato state and the United States, said Diana Leticia Alvarez, who works for the state's support office for migrants.
"They don't want to lose this identity as a Mexican," Alvarez said. "What they want is to find a way back to be here, even if they come back dead."
Copyright 2018 The Associated Press. All rights reserved. This material may not be published, broadcast, rewritten or redistributed. We strive to uphold our values for every story published.