Kuala Lumpur, Malaysia — Malaysia's outspoken prime minister retired Friday after 22 years, leaving behind an economically transformed country -- but also a legacy of autocratic rule and comments derided by some as hateful and ugly.
Prime Minister Mahathir Mohamed handed power to his anointed successor, Abdullah Ahmad Badawi, a mild-mannered career politician who had been his deputy for the past five years.
Mahathir, who spent the final two weeks of his reign defending himself against an international outcry after alleging that Jews control the world, said his greatest achievement abroad was putting Malaysia on the world's radar.
"Malaysia now is better known," he said. Even if other countries disagree with Malaysia, there is "no way they can just ignore (us). We have made some impact."
The retirement of the 77-year-old Mahathir ends an era of iconic Asian leaders -- including Singapore's Lee Kuan Yew, Indonesia's Suharto and the Philippines' Ferdinand Marcos -- whose long tenures and strong personal styles left a deep imprint.
His retirement drew mixed reactions. Many pundits noted his greatest achievements -- turning Malaysia from a British colonial backwater into an Asian tiger economy and one of the Muslim world's few successful democracies -- but they criticized what they termed his ugly outbursts and an approach that put development ahead of all else, including democratic freedoms.
"We won't shed a tear on his leaving," said Avi Pazner, an Israeli government spokesman.
In Kuala Lumpur, praise was most effusive in the government-linked media, although not all Malaysians joined in. Mahathir's critics -- opposition parties, human rights groups, environmentalists -- hope the end of his rule will ease curbs on the media, judiciary and other institutions.
"Thank you, Dr. Mahathir, thank you for retiring," wrote Martin Jalleh, a social commentator. "Twenty-two years of hype, humbug and heights of hypocrisy is more than enough."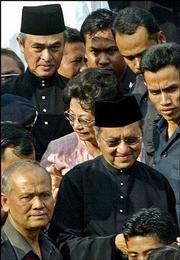 Copyright 2018 The Associated Press. All rights reserved. This material may not be published, broadcast, rewritten or redistributed. We strive to uphold our values for every story published.