Topeka High pulled out all its tricks Friday, but Lawrence High's football squad left Hummer Sports Park with a terrific treat, completing a sweep in Class 6A District 4 with a convincing 55-17 victory over the winless Trojans.
"It was amazing," LHS junior running back Jeff Colter said.
Colter wasn't lauding his four-touchdown performance. He was thrilled after Topeka and LHS combined for four scores in the first 2:42 of the game.
Topeka recovered an onside kick on the opening kickoff, then T.C. Scott ran a double-reverse hand-off 43 yards for an easy touchdown that caught the Lions off-guard.
LHS roared right back with back-to-back-to-back rushing scores in 83 seconds to take a commanding 20-7 lead.
"That was a lot of points being scored all at once," said LHS coach Dirk Wedd, whose 7-2 squad will play defending Class 6A champion Olathe North Friday at Haskell Stadium in the first round of the state playoffs. "I don't think I've ever seen that many points put up in that short of time."
But the three rushing scores -- two by Colter and one by Jabril Richardson -- might not have been the most motivating factors for the Lions.
"Those first two or three touchdowns came too easy," Wedd said. "Then all of the sudden they didn't think they had to play hard. That's not us. We're not very good when we don't play hard."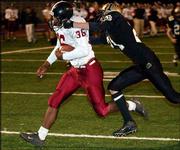 The Trojans closed the gap to 20-14 with 4:30 left in the first quarter after the game's most sustained drive of 10 plays, but it was the closest Topeka High would get.
The Lions found the end zone only once in the second quarter, but a dominating rushing game that ground out 347 rushing yards on just 30 carries Friday overpowered the Trojans the remaining 36 minutes.
"It was great up front like it usually is," said Colter, who led the Lions with 145 yards on 10 carries. "The downfield blocks were key."
Colter had the most Lawrence highlights, but the Lions spread the handouts in the second half -- often going untouched for scores.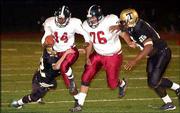 Will Thomas went 51 yards on his first carry in the second half, Colter tallied another 39-yarder for six more, and Ian Handshy closed the scoring with two fourth-quarter touchdowns.
Yet Wedd was still not pleased after LHS upped its win streak to six after another dominant victory.
"I think we played very poorly," Wedd said. "We had a poor week of practice and I think it carried right over to this football game.
"We're 7-2, we should be 9-0. It's nice to be riding momentum, but the biggest thing is we just have to have a good week of practice because we have a huge football game next Friday night."
Copyright 2018 The Lawrence Journal-World. All rights reserved. This material may not be published, broadcast, rewritten or redistributed. We strive to uphold our values for every story published.