Rather than ripping his team at halftime of its game Friday against Oklahoma State, Kansas University soccer coach Mark Francis let his players enjoy a Halloween costume contest.
It probably wasn't a bad idea. The Jayhawks didn't need to be ripped, and they were playing so well they seemed to have the Cowgirls a bit spooked.
The 21st-ranked Jayhawks delivered their most complete performance of the year and dominated from start to finish in a 2-0 Senior Day victory at SuperTarget Field.
"We were moving great all day today," junior midfielder Gabriela Quiggle said. "As a group, we went through some things during practice for specifics for this game, and I think we really came out and did exactly what the coaches wanted us to do."
The Jayhawks (15-4-1 overall, 6-3-1 Big 12 Conference) wrapped up a program-best third-place finish in the Big 12 and likely solidified a berth in the NCAA Tournament.
"I would think we'd have a pretty good chance of getting in," Francis said. "I'd be very, very surprised if we don't."
First, though, the focus will turn to the Big 12 Tournament, which begins Thursday in San Antonio. The Jayhawks are paired against Oklahoma in a 7:30 p.m. first-round game, and a victory would erase any lingering doubts about the Jayhawks getting into the Big Dance -- if their pounding of Oklahoma State didn't already.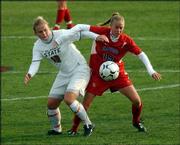 Kansas' midfield was too aggressive, its defenders too tough and its forwards applied so much pressure that the Cowgirls never had a good opportunity to score. Most times the ball crossed into Kansas' half of the field, it was because the Jayhawks passed it back to orchestrate an attack.
The Jayhawks dictated the flow of the game so much that OSU assistant coach Colin Carmichael told his players to "just fall down" if they made any contact with a KU player, but the deception was to no avail.
Kansas struck in the 15th minute when freshman Jessica Kilpatrick buried a shot to the near post from 18 yards out off a pass from Quiggle.
Kilpatrick delivered the dagger in the 63rd minute when she slipped a pass behind a charging Caroline Smith and found Rachel Gilfillan wide open. Gilfillan's fake made OSU goalkeeper Kathrin Lehmann fall down, allowing an easy score.
From there, the game got out of hand physically. Four yellow cards were handed out in the final 27:01. Still, none of it distracted the Jayhawks from their gameplan.
"We always expect a physical game," Kilpatrick said, "especially with so much on the line for them. That pretty much put them out of the postseason, so we expected to get knocked around a little bit."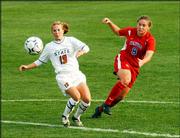 Copyright 2018 The Lawrence Journal-World. All rights reserved. This material may not be published, broadcast, rewritten or redistributed. We strive to uphold our values for every story published.