Virginia Beach, Va. — The jury in the murder trial of sniper suspect John Allen Muhammad saw a brief, fuzzy videotape Friday purportedly showing Muhammad in a store that sold the type of pink paper and adhesive stars used to make a strange $10 million extortion note.
The video was taken just hours before the Oct. 19, 2002, shooting of Jeffrey Hopper outside an Ashland, Va., steakhouse where the note was found.
The note, written on pink paper with five adhesive stars on it, instructed police to put $10 million in a stolen credit card account, or else prepare for "more body bags."
The discount store where the video was shot, a mile or two away, had pink pads of paper and adhesive stars in stock, along with a type of Ziploc bag decorated with Halloween characters. The extortion note was found in a such a bag.
Those items were not sold in other Ashland stores, sheriff's Deputy Drew Darby testified.
Muhammad, 42, is on trial in the shooting of Dean Harold Meyers at a Manassas-area gas station on Oct. 9, 2002. Prosecutors are introducing evidence of 16 shootings to show he is responsible for multiple deaths and terrorized the public -- necessary conditions for the two death penalty charges against him.
Defense lawyers objected to the use of the videotape and a still photo taken from it, saying they were too unclear to identify Muhammad.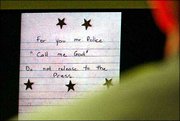 Mark James, an agent with the Bureau of Alcohol, Tobacco, Firearms and Explosives, read the extortion note aloud for the jury.
It included the postscript: "Your children are not safe anywhere, at any time." The author wrote that "we have tried to contact you to start negotiations," but complained that the efforts had been thwarted by officers who mistook the calls for a prank.
The note said the snipers would contact police at the steakhouse phone number by 6 a.m. Oct. 20. James testified that the deadline had already passed by the time agents read the note, which was analyzed for fingerprints and other evidence before it was removed from the Ziploc bag.
The following day, however, the sniper called a special number and instructed police to announce they had "caught the sniper like a duck in a noose," FBI negotiator Jackie Dalrymple testified.
Copyright 2018 The Associated Press. All rights reserved. This material may not be published, broadcast, rewritten or redistributed. We strive to uphold our values for every story published.