Jerusalem — The killings of two female sergeants by Palestinians -- along with a study suggesting women are too weak for combat -- have sparked a debate over the Israeli military's deployment of female soldiers in fighting units.
The argument strikes at the heart of Israeli society because army service is compulsory for nearly all able 18-year-olds, and the military is often a launching pad for careers.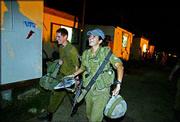 Concern over deployment of women was fueled by the Oct. 24 ambush of sergeants Sarit Shneor-Senior and Adi Osman at a remote army outpost that guards the Jewish settlement of Netzarim in the Gaza Strip.
Some caution against pushing women too far in the army.
Initial findings of the study commissioned by the commander of ground forces found, for instance, that most women are not able to lift the minimum amount required of combat soldiers, 110 pounds. It also said most women could not complete military treks, which typically involve carrying heavy gear, of more than 12 miles. Male soldiers can be required to march more than twice that.
The study has not yet been debated in the upper echelons of the army, but could prevent the eventual entrance of women into elite commando units.
Housing Minister Effie Eitam, a former general, called for female soldiers to be removed from conflict areas. "The ability of women to participate in intense combat ... is more limited," Eitam said.
Others warned that if women are kept out of combat, they will never achieve equality in the military, nor in life, because the service shapes their motivation and expectations for future careers.
Copyright 2018 The Associated Press. All rights reserved. This material may not be published, broadcast, rewritten or redistributed. We strive to uphold our values for every story published.