Houston — The Texans readily admit they didn't see rookie Domanick Davis coming.
They had him pegged as a fourth-round pick, primarily as a kick returner. His name hardly even came up in general manager Charley Casserly's news conference after the draft.
Now, Davis has a chance to become the only NFL player to run for 100 yards in each of his first three starts.
"He's a guy that breaks tackles, he's got speed and a very low center of gravity," offensive coordinator Chris Palmer said.
"I think he's done a great job and we'll see how far it goes. Obviously, I'm very pleased with him."
Davis got his chance this month when the Texans (2-5) grew tired of watching offseason pickup Stacey Mack barrel into the line for under three yards a carry.
"Domanick has exhibited a really good work ethic," coach Dom Capers said. "He's come and he's been impressive in the classroom and in the weight room. He's a mature guy and he understands how important preparation is.
"His production on the field earned him the starting job," Capers said.
That last phrase is one with which Davis isn't too familiar.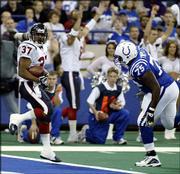 He hasn't been the first-string tailback since he was a two-way standout in high school at Breaux Bridge, La., about halfway between Houston and New Orleans.
He became the Southeastern Conference's career-leading kick returner at LSU, but was behind LaBrandon Toefield on the depth chart. Last season, Davis got a chance to start when Toefield had a broken arm.
"LaBrandon was a great back, so I just had to understand my role and do whatever they wanted me to do," Davis said. "I didn't complain or anything. I just waited my turn."
His position coach at LSU, Mike Haywood, hardly is surprised Davis is breaking out on football's biggest stage.
"People didn't realize that although he's 5-9 and about 215 pounds, he runs with a great deal of power," said Haywood, now coaching running backs at Texas.
"He's a compact and explosive guy, and he just needed an opportunity to showcase his talent."
That wasn't supposed to happen in Houston.
Not this quickly, anyway.
Davis was drafted to replace the departed Jermaine Lewis as a kick returner and possibly to spell the burly Mack on third downs. Then Davis broke his right hand during a blocking drill and missed most of training camp. Once he returned, Davis was considered the No. 3 back behind Mack and supplemental draft choice Tony Hollings.
While hurt, Davis soaked up the playbook. When the season began, coaches found that Hollings hadn't fully recovered from a knee injury, and Davis started getting more time on offense.
"You've got to go with the flow," Davis said. "I can't fuss about it. You've just got to take it as it comes."
The first sign Davis was about to overtake Mack came Sept. 28 against Jacksonville, when Davis was the only tailback on the field in the Texans' final drive, which ended with a game-winning one-yard dive by David Carr.
Davis continued to split time with Mack in a loss at Tennessee, before claiming the job against the Jets three weeks ago.
Davis had 129 yards rushing and 70 yards receiving against New York. Then he went to Indianapolis last week and gained 109 yards rushing, becoming the first rookie since Mike Anderson in 2000 to have consecutive 100-yard games.
A 100-yard game against the Carolina Panthers' tough defense Sunday would put Davis in the NFL record book. He's also just 135 yards shy of passing Jonathan Wells for the young franchise's career rushing lead.
Davis' high school coach, Mike Mowad, said the pounding the back avoided by riding the bench at LSU might ultimately help.
"I've talked to Domanick about it," Mowad said. "In a way it might have been a blessing in disguise. If he had gotten a lot of carries, he might not be as healthy as he is today. Now he's tearing it up."
Davis says he's feeling great despite getting more than 30 touches in the last two games. Indeed, he's ready for more.
"I'm pretty strong. Don't let this size fool you," Davis said. "I'm a pure country boy."
Copyright 2018 The Associated Press. All rights reserved. This material may not be published, broadcast, rewritten or redistributed. We strive to uphold our values for every story published.