Chicago — Sammy Sosa is happy right where he is.
Sosa turned down a chance to pursue free agency Friday, announcing that he was keeping the last two seasons of his four-year contract with the Chicago Cubs. He will earn $33 million during the remainder of the deal.
"I have said all along I wanted to remain a Cub forever," Sosa said in a statement. "We had such an exciting year in 2003, for both myself and for Cub fans everywhere. I am already looking forward to next season. I know with Dusty Baker as the manager and the direction our team is headed, it will be another exciting year."
Sosa signed a $72 million, four-year extension during spring training in 2001. Under the deal, the slugger had the right to terminate the contract after this season or exercise player options for $16 million next season and $17 million in 2005.
Sosa initially considered exploring free agency, but the market has changed greatly since he signed his deal. Because of the luxury tax and debt rules, he probably wouldn't have found a better deal anywhere else.
"The market has changed," said Adam Katz, one of Sosa's agents. "Sammy's a most pragmatic and intelligent guy, and he understood this was the best move. In particular, in the context of fact that he's always maintained he wanted to finish his career with the Cubs, it ended up being an easy decision."
Especially after what he saw this year. After the Cubs lost 90-plus games in three of the previous four seasons, Baker had them within five outs of advancing to the World Series in his first year in Chicago. The Cubs also won the NL Central, their first division title since 1989.
"He has certainly been synonymous with this franchise with what he has achieved here in last few years," Cubs president Andy MacPhail said. "When you are compared with Babe Ruth, you are in a very special class. And some of the achievements he has accomplished over the last few years certainly puts him in that category."
Sosa, who turns 35 Nov. 12, is 10th on the career list with 539 home runs.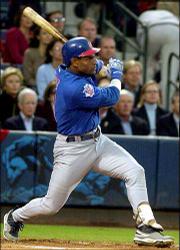 Copyright 2018 The Associated Press. All rights reserved. This material may not be published, broadcast, rewritten or redistributed. We strive to uphold our values for every story published.