Atlantic City, N.J. — Rescuers recovered the fourth and final victim of a parking garage collapse Friday, clearing the way for engineers and safety inspectors to begin the delicate, dangerous task of looking for a cause.
One freestanding exterior wall and several columns still were in danger of falling at Tropicana Casino and Resort. Authorities evacuated a 170-unit condominium building and a landmark restaurant Friday night before attempting to demolish the wall, police Capt. John J. Mooney said.
The U.S. Occupational Safety and Health Administration, which is investigating, had fined the general contractor and a subcontractor for a smaller collapse at the construction site last year.
Workers at the garage, being built for the Tropicana, expressed concern that the project's design and pace might have contributed to Thursday's collapse, which killed four workers and injured 21.
Paul E. Rubeli, chairman and CEO of Tropicana parent company Aztar Corp., denied the work was being rushed, asserting that the timetable had even been lengthened because of bad winter weather.
Neither the general contractor, Keating Building Corp., nor the concrete contractor, Fabi Construction, had any immediate comment Friday on their records.
The OSHA fines stem from an Oct. 24, 2002, incident in which three workers fell at the site when an elevated walkway collapsed. Keating was fined $1,125; Fabi has contested a fine of $8,375.
Early Friday morning, the fourth victim's body was found in a crushed stairwell. Because of the location and the danger of the unstable wreckage, it took searchers nearly four hours of cutting through cement and clearing debris by hand to remove the body.
Parts of the wreckage were still in danger of falling Friday afternoon, and engineers and safety inspectors took over the site.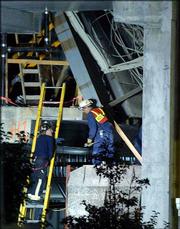 Copyright 2018 The Associated Press. All rights reserved. This material may not be published, broadcast, rewritten or redistributed. We strive to uphold our values for every story published.