Philadelphia — Tug McGraw won't let his illness affect his sense of humor.
His thoughts slowed because of medication, McGraw reeled off one-liners in typical style Thursday as he talked about his battle with brain cancer for the first time.
"It was a lovefest," McGraw said after walking into the Philadelphia Phillies' clubhouse. "Everybody came over to me. There were a lot of hugs and some kisses, probably from the switch hitters."
A former star reliever with the Phillies and the New York Mets, McGraw was diagnosed with a malignant brain tumor shortly after he was hospitalized March 12 in Clearwater, Fla.
McGraw, 58, was working as a special spring training instructor for the Phillies when he became ill. He knew something wasn't right when he went to the stadium on an off day.
"They told me I had three weeks to live," McGraw said. "I'm still alive, so the three-week thing didn't work."
Joined by his 7-year-old son, Matthew, and wearing a baseball cap that bore his trademark slogan, "Ya Gotta Believe," McGraw became emotional a few times during a news conference at Veterans Stadium before the Phillies played the Mets.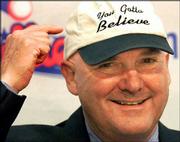 "I'm not fearful. I have confidence," said McGraw, best known for his zany antics during his 20-year career in the major leagues.
McGraw underwent six hours of surgery to remove a brain tumor nine days after he was hospitalized. He completed one month of radiation and chemotherapy, and is still undergoing chemotherapy one week a month.
"The prognosis is very good," said McGraw, who lost his long, blonde hair because of the chemo.
McGraw compiled a 96-92 record with a 3.14 ERA and 180 saves in his career with the Mets and Phillies. The left-hander pitched for the Mets from 1965-74 and the Phillies from 1975-84.
McGraw popularized the phrase "Ya Gotta Believe!" with the Mets during their improbable pennant run in 1973, and later closed out the Phillies' only World Series championship in 1980.
A fan favorite, McGraw is best remembered by Phillies fans for striking out Kansas City's Willie Wilson to end Game 6 of the 1980 World Series and win the title.
Copyright 2018 The Associated Press. All rights reserved. This material may not be published, broadcast, rewritten or redistributed. We strive to uphold our values for every story published.