After working for years in the music industry, Steve Topping says he knows Lawrence could use an amphitheater for both local and national acts.
Topping, a former tour manager and sound technician for reggae acts, was one of about 25 people who attended a meeting Thursday evening at the site of a proposed 5,000-seat amphitheater and sesquicentennial plaza near Clinton Lake.
"It's something that's definitely needed," Topping said. "We'd be able to fill this amphitheater one or two nights a week with 5,000 people."
The amphitheater and plaza are part of a proposed 20- to 25-year master plan developed by the Lawrence Parks and Recreation Department and Landplan Engineering.
Lawrence's Sesquicentennial Commission, which is planning events surrounding the city's 150th birthday on Sept. 18, 2004, proposed the plaza as a gift to Lawrence similar to Centennial Park, which was donated by the group planning the city's 100th birthday in 1954.
"We tossed around many, many ideas, and the thing that kept coming up was we needed open space and facilities for people to gather," said Clenece Hills, president of the Sesquicentennial Commission. "We wanted something that not only commemorates the past but is a vision for the future."
The plaza and amphitheater would be northwest of the current off-leash dog park near the Clinton Lake dam, which the city leases from the U.S. Army Corps of Engineers. The proposed site isn't currently leased by the city, but the Corps of Engineers has agreed to the lease, said Fred DeVictor, director of Lawrence Parks and Recreation.
The plaza would be about 160 feet in diameter and include a timeline of Lawrence history. It also would have an area where presentations about Lawrence history could be made.
The amphitheater would include a stage and a sloped lawn for seating.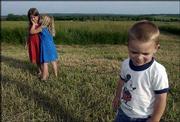 Doug Pickert, landscape architecture manager for Landplan Engineering, said the plaza would cost about $400,000 to complete. The amphitheater would cost more than $1 million.
He said the plaza could be built without the amphitheater, but the package of the two together would work better.
"We felt it was important to put the plaza in a place people would want to come to anyway," he said. "But I think (the plaza) is an element that could stand alone, if that's what the future provides."
Raising money will be a major challenge for both projects. Members of the Sesquicentennial Commission plan to help raise private funds. No time frame has been set for the project to begin.
"We don't have a dime to do anything," DeVictor said. "But the idea is to look 20 to 25 years down the road and have a plan."
Other long-range plans on the 1,515 acres of leased land include hiking and biking trails, soccer fields, a community gathering hall, playground, disc golf course and covered pavilion/skating rink.
Bill Crowe was among the residents who came to the meeting to show support for the amphitheater and plaza. He said the view of Clinton Lake from the site would make it a popular location for a variety of gatherings.
"It's about community," he said. "We talk a lot about the virtual age, but there's always going to be a place where people want to get together. This could be another of Lawrence's destination points."
Copyright 2018 The Lawrence Journal-World. All rights reserved. This material may not be published, broadcast, rewritten or redistributed. We strive to uphold our values for every story published.