Eudora — It was a sight Clyde Cochran will never forget.
When the fire alarm sounded and he went outside Wednesday evening, Cochran saw next-door neighbor Nancy Parsons, 55, coming from her apartment.
She was in flames.
"She came running down the sidewalk with her hair and housecoat on fire," Cochran said minutes later. "We had to get that fire covered up with something."
Cochran, a retired hospital worker, and other neighbors at the retirement community, sat Parsons in a chair, smothered the flames with a blanket, and began pouring water on her.
"She wanted to grab it and pour it on herself, but we did it for her," Cochran said.
Parsons' condition was unavailable Wednesday night from KU Med in Kansas City, Kan. She was taken to the hospital's burn center by air ambulance after being injured in the fire that broke out shortly after 6 p.m. in her apartment.
Before emergency workers arrived, Parsons told neighbors the fire started after she fell asleep while smoking.
Eudora Fire Chief Spencer McCabe said Wednesday night investigators still were working to pinpoint the origin of the fire.
Parsons' apartment unit was the only one damaged in the fire at Pinecrest Apartments, a retirement community at 924 Walnut St. in northwest Eudora. Firefighters did not have a damage estimate but called damage to the unit "considerable."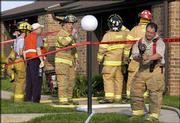 Copyright 2018 The Lawrence Journal-World. All rights reserved. This material may not be published, broadcast, rewritten or redistributed. We strive to uphold our values for every story published.