EAST RUTHERFORD, N.J. — Ask Martin Brodeur about the New Jersey Devils' 1-0 lead in the Stanley Cup finals and his own superlative play, and it sounds as if he's talking about a preseason practice or a trip to the dry cleaners.
"I've been here before," he says, with the matter-of-fact tone of an athlete accustomed to being three victories away from winning hockey's biggest prize.
The Anaheim Mighty Ducks haven't been here before, however, and that is the unknown factor going into Game 2 tonight. The Ducks talked confidently Wednesday of being more competitive than they were in their 3-0 loss Tuesday in Game 1, of knowing what they did wrong, of understanding what they must do right.
But they also know it's tough to predict how they will react to adversity, since they have experienced so little of it in these playoffs, never trailing in a series until now. They haven't seen goalie Jean-Sebastien Giguere outplayed before, haven't dealt with the urgency of winning a game they probably can't afford to lose.
Their two most experienced players, Adam Oates and Steve Thomas, used the same word Wednesday to describe the Ducks' introduction to the series many wait an entire career to play.
"I was a little overwhelmed," Thomas said. "It was very intense, and we need to have the same kind of passion and emotion they have."
Oates spent much of his career in the Eastern Conference, so he is familiar with the commitment the Devils bring to a suffocating defensive system that is neither fan-pleasing nor television-friendly but can be numbingly effective.
He also understands that the Ducks, who looked in Game 1 just like a team that hadn't absorbed a hit or thrown a check in 10 days, cannot hope to play that way again today unless they plan to go home down 2-0.
"Maybe it was a little mental," Oates said of the Devils' superiority. "Maybe we were a little overwhelmed. But we will bounce back."
That frustration is much like that felt by heavily favored Detroit and Dallas after they fell behind 2-0 to Anaheim in the Western Conference playoffs. Those teams didn't react positively, so there is no telling how a team with as little playoff history as the Ducks will respond down two games.
"They're not an easy team to play against," the Ducks' Steve Rucchin said. "It's definitely what happened with the other teams against us. So I guess now I know what it's like to have the shoe on the other foot."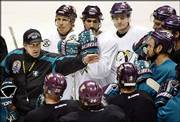 Copyright 2018 The Associated Press. All rights reserved. This material may not be published, broadcast, rewritten or redistributed. We strive to uphold our values for every story published.