Tokyo — Boeing Co. is nearing the end of a series of layoffs in response to the worst downturn in commercial aviation "since airplanes existed," chief executive Philip M. Condit said Wednesday.
Chicago-based Boeing, the world's largest manufacturer of airliners, has been cutting jobs since the Sept. 11, 2001, terrorist attacks and has said it expects to reduce its employee headcount by 35,000 by the end of this year.
Condit told a news conference Boeing was "just shy" of that figure and "not many" more positions would be lost as the company's commercial aircraft division has decreased production by about half.
"There will be some more (layoffs) ahead but not many," he said.
The Boeing executive said its delivery target of about 280 airliners this year "looks very firm" despite the unprecedented impact on the travel industry of September 11, the war in Iraq and the outbreak of SARS.
"It is the worst downturn since airplanes existed," he said. "The impact has been on every airline in the world."
Boeing stands by its forecast to deliver between 275 and 300 commercial jets in 2004, Condit said, adding that the "only remaining significant unknown" was how long SARS will discourage travelers.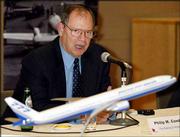 Still, those would be the lowest levels for Boeing since 1996, when it delivered 271 jets.
Condit said the current tough times for the travel industry had vindicated Boeing's strategy in recent years of building its defense-related business through acquisitions. Last year, 53 percent of Boeing's revenues came from commercial aircraft and 47 percent from defense. That ratio will "reverse" this year, he said.
The Boeing executive was in Tokyo for events commemorating the 50th anniversary of the company's operations in Japan.
Japanese manufacturers Mitsubishi Heavy Industries, Kawasaki Heavy Industries and Fuji Heavy Industries are cooperating with Boeing on the development of the 7E7, a super-efficient airliner being designed to carry 200 to 250 passengers up to 7,500 nautical miles.
Copyright 2018 The Associated Press. All rights reserved. This material may not be published, broadcast, rewritten or redistributed. We strive to uphold our values for every story published.