LONE STAR — David Roach enjoys his weekend getaway at Lone Star Lake, a rural respite from the urban jungle creeping in from Lawrence, Topeka and the Kansas City area.
Though the Topeka resident said he wasn't ready to call his tiny, wood-frame shack on the lake's shore home just yet, he wouldn't mind having the chance to enjoy the comforts of home -- such as a sink, a tub or a toilet.
Getting those comforts could mean asking Douglas County taxpayers for some help.
"I think it's inevitable," said Roach, who bought his place seven or eight years ago. "I don't have much hope of getting a septic system on my land, so we'd need to do something."
Roach and other owners of the 50 or so residential lots along the county-owned lake can't do much of anything these days, at least anything pertaining to development.
Sewage limitations are holding prospective plans in check. The lake's relatively small lots -- Roach's property, larger than most, covers only one-sixth of an acre -- aren't big enough for septic systems, and officials fear those that are already there could be leaching sewage into the lake.
Douglas County commissioners are mulling suggestions for solving the problem that range from allowing septic discharges onto county land to ordering installation of a sewage pump station to serve all 50 lots.
'A time bomb'
The Lawrence-Douglas County Health Department is arranging water tests to see how much fecal coliform -- if any -- has reached the lake water frequented by swimmers, anglers and boaters. More development without adding sewage treatment could worsen any current problems.
"It's a time bomb waiting to happen," said Richard Ziesenis, who monitors septic systems for the Health Department.
Thus far, no solution has surfaced. But commissioners know a fix won't be cheap.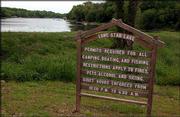 In Centropolis, officials grappling with a similar situation got a $200,000 grant to help pay for a lagoon system, but they still had to tap affected property owners to pay for some project costs.
In Douglas County, commissioners appear unwilling to subsidize a new sewer system at Lone Star.
"If people want to continue to play, they'll have to pay -- pay for the system that keeps the lake safe," said Bob Johnson, commission chairman.
The lake has grown in popularity in recent years as the area evolved from its 1930s' origins as an out-of-the-way escape.
The 183-acre lake is secured by a dam built in 1939 and reinforced in 2001 by a $1.15 million county-financed project to rebuild its emergency spillway. The county also spent $428,000 to dredge years' worth of silt from the lake; the 51 owners of lakeside property are paying $1,500 per lot to cover their interests in the project.
Closer to home
At the time of the dredging, only six of the 51 property owners were considered year-round residents. Many others -- including Kansas University Chancellor Robert Hemenway -- reserve a slice of lakefront property for recreational use.
This month, three more property owners received permission to tap into Rural Water District No. 5's water lines along the lakefront, moves certain to add more waste.
"Back when that lake was built ... it was a major ordeal to drive out there from Lawrence," said Keith Browning, the county's director of public works. "Well, it's not anymore. Now transportation is such that somebody could live out there and work in Lawrence or work in Topeka or work in Kansas City. If it had a waste-treatment system, it would open the door for more year-round houses."
Copyright 2018 The Lawrence Journal-World. All rights reserved. This material may not be published, broadcast, rewritten or redistributed. We strive to uphold our values for every story published.