On a team loaded with seniors, a sophomore played the biggest role in Free State High's first regional title.
Firebird pitcher Jake Hoover stymied Lawrence High in Tuesday's Class 6A regional championship at FSHS Field, holding the Lions to just four hits and one run in a 5-1 victory.
For a guy who entered the game with a 2-1 record, throwing against an LHS squad that averaged 12.5 runs in its last seven games, Hoover simply was stunning.
"Jake was phenomenal," FSHS coach Mike Hill said. "That was a pressure-packed situation in a pressure-packed game. Sometimes you wonder about young kids in that situation, but to Jake's credit -- and this is not a derogatory comment on my behalf -- he doesn't think about a lot of things. He just goes up there and throws.
"He did so in a big way tonight, because that was a great team. They came in swinging the bats really well. For him to do what he did was just phenomenal."
Hill was right. Hoover said he tried to keep his mind clear of everything except tossing the ball over the plate. He retired the final six LHS batters and only threw one ball in the seventh inning.
"I wasn't really thinking about it," Hoover said. "I just got the ball and tried to throw strikes."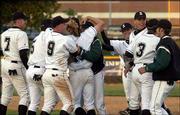 Now FSHS (18-3), which beat Leavenworth, 8-3, in its regional opener, is headed to the state tournament May 30 in Maize. That will be something the Firebirds never have experienced.
"It's wonderful, great," Hoover said. "I can't really explain it. It's awesome."
The Lions (16-5) routed Kansas City Wyandotte, 10-0 in five innings, to reach the championship, but looked out of sync throughout the final. They didn't have a runner advance past second base until the fourth inning, when FSHS already had a 4-0 lead.
LHS senior Dominick Harrell scored the lone LHS run in the fifth, but the Lions stranded their other two runners in the inning. That was Lawrence's best chance to cut into the Firebirds' lead, but LHS couldn't muster any offense.
"Offensively, that puts pressure on you when you're behind 2-0 after the first and 4-0 after the second," LHS coach David Petry said. "We didn't get the job done in that situation."
LHS starter Ryan Rowland, who entered the game 4-0, lasted just 1 1/3 innings as the Firebirds strung together four runs on five hits in the first two innings. LHS senior Spence Chaney pitched the rest of the game, allowing one run on three hits, but the Lions' offense couldn't touch Hoover.
"I told our kids we have nothing to be ashamed of," Petry said. "We were 16-5 and had a great year. We didn't play well, but Free State had a lot to do with that.
"Hoover was great."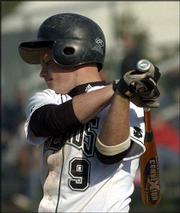 That was the prevailing opinion Tuesday. As Hoover walked toward the FSHS dugout after the game, he was greeted by loads of high fives, hugs and slaps on the back by all of his teammates and coaches.
"Oh, man, he was awesome," FSHS senior Matt Berner said. "It doesn't matter if he's a sophomore pitcher, everybody feels comfortable with him in there. He's just an excellent pitcher."
Berner might have been just as big.
The senior shortstop was huge at plate, going 7-for-7 in Tuesday's two games with four RBIs, two doubles and four runs scored. He was solid in the field, and shook off a collision in the fifth inning of the championship when he and LHS senior Taylor Martin collided in a run-down at third base.
"That's what you expect from Matt Berner," Hill said. "People might say, 'Coach, you can't expect that every time,' but yeah, we do. He's that good of a player."
Berner, a three-year starter and one of 11 seniors, has been the Firebirds' heart and soul this season, keying their emergence as one of the state's top teams.
Ranked No. 1 by the Kansas Baseball Coaches Assn. most of the season, FSHS only had been to the regional championship once before. Now the Firebirds are headed to state.
"I've been waiting three years for this," Berner said. "We're gonna savor it for a day or two, then we're gonna try and win a state tournament."
Copyright 2018 The Lawrence Journal-World. All rights reserved. This material may not be published, broadcast, rewritten or redistributed. We strive to uphold our values for every story published.