Kay Carl remembers the day her seventh-grade daughter, Traci, came home from school wanting to talk about her mother's secretarial job.
Traci Carl's school was having a Career Day, and students were supposed to talk to adults about their jobs.
"I remember looking out the kitchen window and seeing (Journal-World sports editor) Chuck Woodling sitting out in back of his house -- we lived next door to him," Kay Carl said. "And I said, 'Oh, you don't want to talk to me. My job's not too exciting. Why don't you go talk to Mr. Woodling?'"
An hour later, Kay Carl said, Traci "walked in the house and said, 'I'm going to be a journalist.'"
She got that right.
Traci Carl, now 30, has been named news editor -- the No. 2 position -- at The Associated Press bureau office in Mexico City, where she spends her days deciding what news from Mexico to share with the world.
"Traci was one of those kids who always went all the way with anything she did," her mother said. "I am so proud of her."
A straight-A student, Traci Carl was Lawrence High School's Class of 1991 valedictorian. She graduated from Kansas University in 1995 with bachelor's degrees in journalism and Spanish.
She worked for The Associated Press in Topeka, Kansas City and Wichita for three years before moving to the news cooperative's international desk in New York. She's been in Mexico City for three years.
"I came here in June 2000 to help cover things leading up to Vicente Fox's being elected president, which turned out to be pretty historic," Traci Carl said during a telephone interview Tuesday.
Fox's election ended 71 years of single-party rule in Mexico.
Traci Carl also covered the January 2001 earthquake that killed more than 700 people and destroyed nearly 124,000 homes in El Salvador.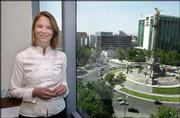 The morning of Sept. 11, 2001, she was in Havana preparing for an interview with Cuba's foreign minister.
"There'd been a fire, so we were in a temporary office that just had Cuban TV news," Traci Carl said. "I'd seen the 'alert' that a plane had hit the World Trade Center, but that's all I knew -- I didn't know what kind of plane. It just said 'a plane.'"
When she got to the foreign minister's office, she learned the World Trade Center towers had fallen.
"He told me, 'There are troubles in your country,'" Traci Carl said. She spent the rest of the day filing reaction stories from Cuba.
Within a few days, she was on her way to New York. There, she was put to work on AP's international desk.
"Basically, I worked the night shift, waiting for war to break out," she said. After three weeks, she returned to Mexico City.
"I really like it here," she said. "It's a fascinating place; there's so much going on."
Traci Carl's success came as no surprise to her high school journalism teacher, Cheryl Nelson.
"That girl is phenomenal," said Nelson, who now teaches at Free State High School. "She's personality-plus, she's serious in what she does, but she has a great sense of humor. She's great."
Copyright 2018 The Lawrence Journal-World. All rights reserved. This material may not be published, broadcast, rewritten or redistributed. We strive to uphold our values for every story published.