Kosher.
Everybody knows the word -- it's commonly used in the American vernacular as an expression that something is genuine, authentic, honest or legitimate.
But few people seem to know what the word actually means and where it comes from.
"I think people don't really have much of a clue as to what it is. Sometimes they'll say, 'Oh, so you eat matzoh?' Or for Passover they'll say, 'You have to fast for eight days?'" says Leni Salkind of Lawrence, who identifies herself as an observant Jew.
"What they think about being kosher, I don't know. People just don't have any idea why we do it."
Kosher is a Yiddish word, originally derived from the Hebrew, that refers to food that is fit, proper or correct; something that is permissible to eat under Jewish dietary laws.
To Jews, kosher is commonly referred to as "kashrut," or fit, and it's a system of guidelines whose roots trace back millennia.
"I'd say it's at least 3,000 years old," says Rabbi Scott White, spiritual leader of the Lawrence Jewish Community Center, 917 Highland Drive. "The laws of kashrut begin in the Hebrew Scriptures, the Torah, and they're amplified in the Talmud, the oral tradition of Jewish knowledge."
Many, though by no means all, Jews around the world practice the laws of kashrut, often called keeping kosher.
Even in Lawrence, which has a small Jewish community, there are college students, couples and families who hold to this tradition at varying levels of observance. People like Rebecca Rissien, a 19-year-old from Overland Park who just finished her freshman year at Kansas University. Going to college was a challenge for Rissien, who comes from a modern Orthodox family and has kept kosher since she was 5.
"I've had to adapt. Mostly what I did (this year at KU) was just eat vegetarian. I won't eat meat here, because it has to be slaughtered a special way, but I'll usually eat dairy products," she says.
Rissien lived in the dorms, so she typically ate her meals in a college cafeteria.
"Since I didn't have an actual kitchen or oven in the dorm room, I pretty much had to eat there. Next year I'll be in an apartment, so I'll probably bring in a lot more kosher food from home," Rissien says.
Defines Jewish identity
So, what exactly IS kosher?
That question is best answered with another question: "How much time do you have?"
Sages and rabbis have debated for thousands of years the precise intentions of the kashrut laws, what's kosher and what isn't.
It can become an incredibly complex debate. But the practice of keeping kosher can be boiled down to a few basic concepts.
No mixing of meat and milk products in the same dish or meal. Food that's neither milk nor meat, such as margarine, bread and fish, is pareve (pronounced "parv"), or neutral. Products that are pareve can be eaten with meat or milk dishes.
The animal from which meat is taken must be slaughtered in accordance with Jewish ritual. Meat must be salted to draw out any blood, which cannot be consumed.
There is plenty of information on the Web that goes into greater detail about keeping kosher, or adhering to Jewish dietary guidelines.Two sites are: www.kosher.com and www.kashrut.com.Kashrut means fit, or permissible to eat.
Any animal that does not both chew its cud and have a split or cloven hoof can't be eaten. So cows are in; animals such as pigs, horses or rabbits -- out.
No consumption of pork or pork products.
No eating shellfish or sea creatures that lack scales and fins. Fish such as tuna and salmon are OK, but not bottom feeders like catfish.
Food that's outside these guidelines, like a juicy cheeseburger, or a ham sandwich, are "treyf" -- forbidden.
If you want to know more than that, you should probably consult a rabbi.
Or a Jew who keeps kosher, like David Katzman, a longtime member of the Jewish Community Center.
Katzman, as a traditional, observant Jew, has followed the laws of kashrut for about 30 years.
"In essence, what it means is it helps form my identity. In keeping this law of kosher, that means I must remember at all times what I am. I can't put a bite of food in my mouth without thinking of who I am," Katzman says.
"Anthropologists see it as a system of divisions -- by not eating certain foods, it defines who we are."
Like second nature
Keeping kosher is something that exists on a continuum: Some Jews do a little more, some do a little less.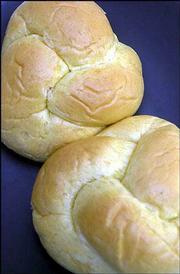 Orthodox Jews view all the kashrut laws as commandments from God that must be strictly followed. Other Jews consider the kosher guidelines as more voluntary in nature and adapt them to fit their lives in a way that feels right.
Allyson Tash, for instance, follows the letter of the law.
The 23-year-old New York native worked this past academic year as a Jewish Campus Service Corps Fellow at the KU Hillel Foundation, 901 Miss.
"In my home, everything is kosher. I use separate dishes and pans for meat and milk. I have a couple of things -- a pot and a couple of serving dishes -- that are (for) pareve. I have one dishwasher, but I only put dairy dishes into it, and I do meat plates in the sink," she says.
Tash doesn't eat any pork or shellfish and keeps kosher the best she is able to.
"If I go out to eat in Lawrence, I eat vegetarian. What's preferable is to go out to a kosher restaurant, but that's not possible here."
She started following the Jewish dietary guidelines when she spent a year studying abroad in Israel during college. Her roommates kept kosher.
"It's become second nature, I guess," Tash says. "It's not difficult to keep kosher -- in this day and age you can get kosher food anywhere."
Others adopt a more liberal -- or, you could say, quirky -- approach to the kashrut laws.
"We keep quasi kosher," says Dinah Lovitch, a Conservative Jew who lives in Lawrence. "I keep my milk and meat dishes separate year round, then I have separate dishes totally for Passover. I don't bring any forbidden foods into the house, but the beef or lamb that we would eat is not kosher."
Going out to eat is a different matter for Lovitch and her husband, Fred.
"He'll eat everything. He'll get whatever he wants, including pork or whatever. I won't eat pork or shellfish, but I will eat a cheeseburger," she says.
"I used to eat -- when I went out to a Chinese restaurant -- anything I wanted, then I quit doing that. But I still will mix meat and milk when I go out, but not at home."
For Lovitch, striving to keep kosher, even a personalized version of it, is a worthwhile effort.
"It's a way of reminding myself every day that I am Jewish, what my roots are, what my history is and where my beliefs lie," she says.
Copyright 2018 The Lawrence Journal-World. All rights reserved. This material may not be published, broadcast, rewritten or redistributed. We strive to uphold our values for every story published.