New York — New York Mets catcher Mike Piazza will miss at least six weeks, and possibly the rest of the season, after tearing his right groin muscle last week.
"It is in the back of your mind. It's the ultimate fear," Piazza said Tuesday. "But I'm not looking at that right now. I just want to get the swelling out."
Piazza saw team physician Dr. Andrew Rokito, who said the All-Star catcher had a Grade 3 strain -- the most serious -- with the muscle partially torn off the bone. Piazza will not need surgery.
"Six weeks is certainly the low end of it," Mets general manager Steve Phillips said. "It's hard to pinpoint beyond that."
When asked if the injury could be season-ending, Phillips said, "It's possible. We don't know. We're leaving it as an indefinite period of time. We can't pinpoint it. It depends on the symptoms and the rehab process."
Piazza was the Mets' leading hitter, batting .333 with a team-leading seven homers and 15 RBIs before hurting himself Friday trying to avoid an inside pitch from San Francisco's Jason Schmidt.
After a slow start, Piazza found his groove before the injury, hitting .500 (12-for-24) with four homers and nine RBIs in his last seven games.
"The truly frustrating part is I felt like I was swinging the bat well," he said. "I went from a low period to a high period back to a low period. To go from hitting the ball as well as I can and seeing it as well as I can to being on the training table is disappointing."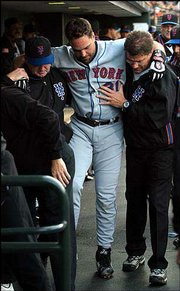 Piazza, who is on crutches, will begin his rehab after the swelling goes down in about two weeks. While he hopes to come back as soon as he can, Piazza knows rushing will only cause more problems.
"You can only go as fast as your engine permits," he said. "If you hit the gas and nothing is there you can't go. It's baby steps. You have to crawl before you walk. You have to take extra time because if you don't, you could reaggravate it and it's back to step one."
New York started the day in fourth place in the NL East, 12 games behind Atlanta. The Mets will have to get through an important stretch of their schedule -- the next 12 games are against the Braves and Philadelphia -- without many key players.
Piazza is one of eight Mets currently on the disabled list. The players combined are making about $51.8 million this season, included prorated shares of signing bonuses -- more than the payrolls of 10 teams on opening day.
"During the course of the season you're always faced with adversity," Phillips said. "You just have to deal with it. Fortunately for us, even though they aren't Mike Piazza, Vance Wilson and Jason Phillips are both very capable guys."
Piazza is considered by many to be the greatest hitting catcher ever. A 10-time All-Star, Piazza has hit 343 home runs as a catcher -- eight shy of Carlton Fisk's record.
Copyright 2018 The Associated Press. All rights reserved. This material may not be published, broadcast, rewritten or redistributed. We strive to uphold our values for every story published.