Lawrence must build a new fire station, and soon, or the city could pay in lost lives.
Fire & Medical Chief Jim McSwain told the Lawrence City Commission on Tuesday that a long-delayed fifth fire station for the city was becoming a critical need.
"We're really at the point where we're gambling with the public's life, firefighters' lives and increased property loss," McSwain said.
His presentation came on the second day of city budget hearings. Commissioners face a $2.194 million budget hole that they're trying to fill, but they said McSwain's request to build a fire station at 21st and Iowa streets, which would cost $3.6 million, deserved consideration.
"I agree with the chief," Commissioner Sue Hack said. "I think we're at the point where we're putting people's lives at risk. We need to do something about that."
The last new fire station was built in 1982, McSwain said. The Insurance Service Office, an independent risk-rating service for insurance companies, gave the city an upgraded fire protection rating. The city previously rated five on a scale of one to 10, with one being best. The upgrade improved the city's rating to two.
Since then, he said, the city has grown by leaps and bounds. It takes longer -- too long, McSwain said -- for firefighters and ambulances to reach emergencies on the city's periphery.
The city created a fire station master plan in 1994 to move two of the four fire stations and build a new one to more efficiently cover the city. Only one part of the plan has been completed: Station No. 2 was moved from 1941 Haskell Ave. to 2128 Harper St. last year. The new station cost $1.45 million to build.
Under McSwain's plan, the city would move Station No. 4 from 2819 Stonebarn Terrace to Wakarusa Drive north of Clinton Parkway, with construction costs of $3.6 million. Building the new fifth station, at 21st and Iowa streets, would cost the same amount, he said.
He said the Insurance Service Office could rate Lawrence again soon. Without the new station, he said, the city's rating could drop and insurance costs increase.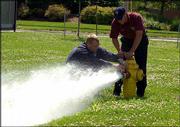 "We're due," he said. "They usually come around every 10 to 12 years, and we've gone 20 years."
Commissioner Dennis "Boog" Highberger said quantifying potential insurance price jumps could help officials sell the plan to taxpayers.
"For me, it would be helpful to have a cost-benefit analysis on what the effects on insurance would be," Highberger said. "It would be helpful if we could say, 'We're saving you money by raising your taxes.'"
Five agencies made funding requests Tuesday during the city's 2004 budget hearings.
| | | |
| --- | --- | --- |
| Agency | 2004 request | % change from 2003 |
| Information Systems | $851,768 | -0.5 |
| Fire & Medical | $9,956,000 | 1.2 |
| Human Relations | $324,900 | 0 |
| Public Works | $22,570,000 | -2.1 |
| Finance | $20,031,205 | 1.07 |
City officials said they would find that information. One insurance company, however, said a rate increase would be unlikely regardless of the ISO rating.
Joy Zarger, an underwriter with Kansas Farm Bureau Insurance headquarters in Manhattan, said her company offered the same premiums across all but the lowest ratings.
"It's not going to make a difference as long as you're (rated) one through eight," she said.
McSwain said potential loss of life or injury was reason enough to move forward with a new station.
"We're kind of down to our last chip in gambling here," he said.
The commission concludes budget hearings at 1 p.m. today at the Wastewater Treatment Plant, 1400 W. Eighth St.
Copyright 2018 The Lawrence Journal-World. All rights reserved. This material may not be published, broadcast, rewritten or redistributed. We strive to uphold our values for every story published.