The music queen of Quail Run School is giving up the throne.
Jane Boberg, who has taught more than 2,000 students at Quail Run since it opened in 1988 and has taught a total of 19 years in Lawrence, accepted a crown and robe at the end of an all-school assembly in her honor and was escorted out of the gym on the arm of her husband, King George Boberg.
"I wish you all the best," she said. "I love every one of you."
Boberg is among three dozen teachers and staff who are retiring from the Lawrence school district this year. Among them are Lawrence teachers of the year and district master teachers, including Boberg, who earned that title in 2000.
Quail Run students and faculty thanked Boberg in a way she could identify with -- through song. Teachers belted out "Thank You For Teaching Us To Sing." And students performed a rendition of ABBA's "Thank You For The Music."
In harmony, they thanked Boberg for teaching in a meaningful way.
"Putting it on their level," Boberg said when asked the secret of making music fun. "Lots of games. Lots of games."
She plans to move to a beach home near Wilmington, N.C. She'll keep a hand in music by conducting a church choir, and she plans to enjoy boating, swimming and biking.
In that sense, she'll mirror many of the district's retirees.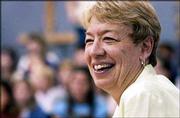 Carol Pilant, who has been the librarian at Central Junior High School for a quarter of a century, said she intended to work in Lawrence until her son, Colin, graduated next year from Free State High School.
After that, she'll live part of the year in France and "do as much traveling and dream realization" as possible.
Wanda Samuels, who has worked in the district central office for 17 years, said she soon would be able to enlarge her collection of stories about big ones that got away.
"My husband and I will move to our home in the Lake of the Ozarks and probably do a lot of fishing," she said.
Cordley School teacher Frank Hoffman is leaving the district after 29 years assigned to fourth-, fifth- and sixth-graders.
His plans include "sleeping in late, not attending any meetings and generally enjoying life."
Joan Wells, the retiring physical education teacher at Lawrence High School, summed it up for this year's class of retirees: "I'm looking forward to doing the things that I want to do instead of doing the things that I have to do."
Copyright 2018 The Lawrence Journal-World. All rights reserved. This material may not be published, broadcast, rewritten or redistributed. We strive to uphold our values for every story published.