Tired of competing against each other in Kansas City-area golf tournaments, Don Cox and Bill Toalson decided to join forces a year ago.
Their partnership has resulted in a pair of victories at the Kansas Golf Assn.'s Kansas Senior Fourball championships; last year at Wichita's Flint Hills, and Monday and Tuesday at Lawrence Country Club.
"We finally decided we'd better get together and be partners," Toalson, a retired cardiologist from Mission Hills, said Tuesday after he and Cox, a retired businessman and member of the police department from Lake Quivira, said after wrapping up a one-stroke victory over Dick Jensen and Lou Rapolino. "We are both competitors and play well under pressure. When one guy hits a bad shot, the other takes over."
A year ago, the two shot sizzling combined best-ball scores of 67 and 61 to win by three strokes in Wichita. Tuesday, they shot a 2-over-par 74 to go with a first-round 68 to win by the single shot.
"This year was much harder," Cox said. "We both played extremely well last year. The course played hard today. The pin placements ... if you weren't right below the hole and missed the green you had a problem, but we compliment each other pretty well. We played well when we had to."
The two golfers won on a chilly, windy day.
It was the wind that pestered North Carolina basketball coach Roy Williams, who, along with partner Scot Buxton, finished sixth overall after firing a 4-over 76 Tuesday to go with a first-round 70.
"We were ugly today ... ugly," Williams said, grinning. "It wasn't very good today all day. The wind was tougher and the pins were tougher today than yesterday because they were farther away from my ball all day," he quipped.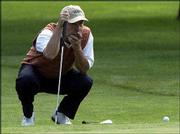 Lawrence native Buxton had perhaps the best shot of the day when he chipped in from the rough about 20 yards out for birdie on hole No. 9.
"I don't think I've ever seen a better shot in golf," said Williams, who rushed to Buxton for a high-five after Buxton's shot. "Before he hit, he came up to me and said, 'Where should I hit it?' I was thinking about telling him where, then I said, 'Heck, what difference does it make?' It was that tough a shot. Then he makes it. I was running up the hill to high-five him."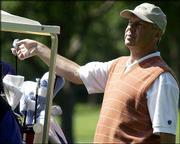 Cox and Toalson busted a tie with Jensen of Salina and Rapolino of Parsons on the 16th hole with a par to their foe's bogey.
The teams of Robert Gleissner and Gerry Glessner and Martin Park and Lee Danyluk tied for third at 144.
As far as the tournament, former Kansas University coach Williams said: "It was a lot of fun, and if the schedule permits I'd love to play again next year."
Copyright 2018 The Lawrence Journal-World. All rights reserved. This material may not be published, broadcast, rewritten or redistributed. We strive to uphold our values for every story published.