Skokie, Ill. — Fifteen suburban Chicago teenagers were charged with misdemeanor battery Friday for their alleged part in a videotaped hazing in which high school girls were beaten and showered with filth.
The 17- and 18-year-old seniors were charged as adults and face up to a year in jail. Authorities, however, saved their harshest words for residents of affluent Northbrook they accused of stonewalling the investigation.
Last week, police said they were looking into whether adults supplied beer and some of the feces used in the May 4 melee that put five girls in the hospital. So far, only the teenagers have been charged.
"There is a tremendous lack of information coming forward from the people of the community about who did supply the alcohol," Cook County prosecutor Richard Devine said. "When everybody you talk (with) says they have a lawyer and don't want to talk to you, there's an issue."
In the video, shown on national television, junior girls from Glenbrook North High are covered with mud, paint, feces and garbage by other students as onlookers, some hoisting beer cups, cheer them on. The melee took place during an annual "powder puff" touch football game between high school girls.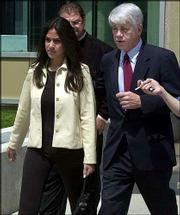 The 12 girls and three boys who were charged began turning themselves in to police Friday. They were not expected to be jailed.
Devine would not elaborate on what the boys did.
Authorities have said they believed the game got out of hand because of the alcohol. Devine said investigators had been met with two weeks of silence about who supplied it.
The school has suspended 32 students accused of taking part in the hazing. Although the event was at a park off campus and not sanctioned by the school, officials have said school codes allowed the 10-day suspensions.
Principal Michael Riggle said the school was recommending expulsions for the students; they will still receive a diploma.
Copyright 2018 The Associated Press. All rights reserved. This material may not be published, broadcast, rewritten or redistributed. We strive to uphold our values for every story published.