Houston — The death toll from this week's botched smuggling attempt reached 19 Friday when an immigrant died at a hospital, two days after being pulled out of a stifling semitrailer.
The 29-year-old man, believed to be from Honduras, died at DeTar Hospital Navarro in Victoria, southwest of Houston, from complications from heat stroke. The toll is believed to be the deadliest in recent U.S. history.
Also Friday, 18 suspected illegal immigrants were found alive in a tractor-trailer at a truck stop not far from where the other victims were found. None required hospitalization. They were turned over to immigration authorities and the truck driver was taken into custody.
On Wednesday, sheriff's deputies opened a trailer at a truck stop south of Victoria with 17 bodies inside. With two deaths since then, it is the deadliest U.S. smuggling incident since 18 immigrants died in 1987 in a rail car in West Texas.
In initial autopsy reports, Travis County medical examiner Roberto Bayardo said the victims died from dehydration, hyperthermia and suffocation. Four victims, including a 5-year-old boy, may have suffocated under people on top of them.
"It's difficult to tell if they were dead at the time or they died as a result of the piling up of the other bodies," Bayardo said.
The driver of the truck, Tyrone Williams, 32, of Schenectady, N.Y., told authorities he struck a $2,500 deal with two men Tuesday to haul 16 immigrants from the border town of Harlingen north into Texas. Instead, authorities said, more than 100 men, women and children were loaded into the hot and virtually airless truck.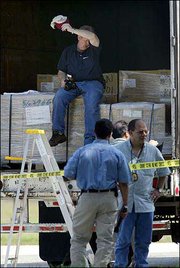 Federal authorities were searching for three other suspects in the case. They were also looking for 30 to 50 illegal immigrants believed to have fled the trailer.
Defense attorney Craig Washington said he was looking into whether Williams was properly advised of his rights and why he was questioned in a cold room without anything to offer him warmth.
"If he made statements, one, they may not have been accurate and, two, they may not have been of his own free will," Washington said.
U.S. Atty. Michael Shelby said he was confident Williams was properly advised of his rights.
Forty-nine survivors were transferred to a Houston facility and will remain in federal custody while the investigation continues. Five others remain hospitalized.
Most of the immigrants were from Mexico, while others were from El Salvador, Guatemala and Honduras.
Copyright 2018 The Associated Press. All rights reserved. This material may not be published, broadcast, rewritten or redistributed. We strive to uphold our values for every story published.