Moscow — Casting an eye toward re-election next year, President Vladimir Putin confidently predicted Friday that Russia would defeat rebels in Chechnya and said Russia must stimulate its flagging economy if it is to play a more influential role in the world.
Putin, making his annual address to the nation, promised that Russian forces "would finish the job" in Chechnya, a sign the Kremlin intended to continue military operations in the breakaway republic, where more than 75 people died this week in two suicide bombings.
"We face serious threats," Putin said in a stern, forceful voice. He spoke before lawmakers gathered in the marble room in the Kremlin, which was once used for high-level meetings of the Soviet Communist Party.
Putin's speech was widely seen as the kickoff event in his campaign to win re-election as president next year. Although his popularity is high and a second term seems likely, Putin's address sounded like a campaign speech.
Putin said progress had been achieved toward a political settlement in Chechnya, which has been embroiled in rebel insurgency for much of the last decade. On Thursday, Putin offered a partial amnesty to rebels who agreed to put down their weapons.
Putin listed Russia's declining population, poverty, the spread of weapons of mass destruction and international terrorism as among its most severe problems.
He said Russia's bloated bureaucracy must be cut. On political reform, he said forming a government based on a parliamentary majority should be considered, instead of the current system of having an elected president who nominates Cabinet ministers.
He said Russia's strategy should be to ensure it can become a "truly strong, economically progressive and influential" country.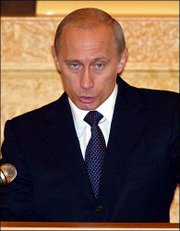 The speech, however, didn't impress lawmakers.
"There were no serious ideas in this speech. ... We left disappointed," Irina Khakamada, vice speaker of the lower house of parliament, the Duma, and a leading liberal lawmaker, said on Ekho Moskvy radio.
Communist leader Gennady Zyuganov said "not a single question was answered in the economic part" of the speech.
But in a country that has seen political turmoil and constant change for 15 years, Putin warned against reform for reform's sake. "There cannot be a permanent revolution," he said.
Putin criticized the government for the economy's slowing pace. "The tempo of economic growth is slowing," he said. He said the country's GDP should be doubled during the next 10 years.
Putin devoted little time to international affairs, though he praised the success of the anti-terrorist coalition formed after the 9-11 attacks.
He repeated that the United Nations remained "the most important" mechanism for regulating international conflict.
Copyright 2018 The Associated Press. All rights reserved. This material may not be published, broadcast, rewritten or redistributed. We strive to uphold our values for every story published.