Vernon Smith's career went into hyperspeed last fall after he was awarded the Nobel Prize in economics.
"I was very, very busy before this," Smith said Friday. "But before, I did everything I was invited to do, every talk. Now I can't even come close."
Smith, a Kansas University alumnus who is considered the father of experimental economics, was in Lawrence Friday to receive the Distinguished Service Citation, the highest award bestowed by the university.
He also spoke at the KU School of Business' graduate recognition ceremony, sporting his trademark blond ponytail and black cowboy boots.
Smith, 76, is on a one-year leave of absence from George Mason University in Fairfax, Va., to work at the University of Alaska at Anchorage. He's working on two books and delivering a lot of speeches.
"There's so much you have to prioritize," he said. "I focus on groups that deal with experimental economics, and I give priority to groups that offer high fees."
That's not for selfish reasons. It's because he donates his speakers fees to experimental economic research causes.
During his School of Business speech, Smith told graduates his three years at KU -- from 1949 to 1952 -- were an important part of his development as a scholar.
"The University of Kansas is the place where I really found out what it meant to be a scholar," he said.
He credited Richard Howey, then a KU professor and nationally known economic historian, for much of that knowledge.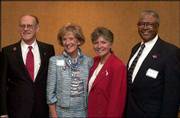 "The lesson I learned from him is life is about solving problems," Smith said. "When you leave this university, you're going to be faced with complex problem-solving. You're not going to be able to look up the answers in the back of the book.
"It isn't what you know that counts but what you can do with what you know. That's when learning becomes fun."
Smith was one of four people with KU ties to receive the Distinguished Service Citation, given annually. They were awarded Friday night at the All-University Supper at the Kansas Union Ballroom.
The other winners were:
George L. Brown, Arlington, Va., a KU alumnus who was a Tuskegee airman during World War II. He was the first black man elected to the Colorado State Senate. He also was director of the Denver Housing Authority and a trustee for the Boys and Girls Choir of Harlem and the Joint Center for Political and Economic Studies in Washington, D.C.
Adele Hall, Mission Hills, a philanthropist whose husband, Don, recently stepped down as chairman of Hallmark Cards.
Hall is the first woman to lead the Heart of America United Way in Kansas City. She also founded Women's Public Service, which provides a forum for social issues. Her family's foundation has donated millions of dollars to KU.
Liliana Mayo, La Punta-Callao, Peru, a KU alumna who founded the Centro Ann Sullivan del Peru, which helps Peruvian families deal with autism. She teaches at the University Cayetano Heredia and Catholic Pontificate University, both in Lima.
Copyright 2018 The Lawrence Journal-World. All rights reserved. This material may not be published, broadcast, rewritten or redistributed. We strive to uphold our values for every story published.