Los Angeles — Phil Jackson is feeling good about his own health, as well as the future of the Los Angeles Lakers.
"I think I would have been a little more defeatist at another time," Jackson said following the Lakers' 110-82 loss to the Spurs that ended their three-year run as NBA champions. "I have to feel better about my own personal health and the direction I'm going. We've had a great run."
Jackson's self-described most difficult season as a coach ended Thursday night -- five days after he underwent an angioplasty to unblock an artery to his heart.
Jackson is perhaps the most successful coach in NBA history, having won a record 162 postseason games and coached nine championship teams in 13 years. His nine titles tie him with former Boston coach Red Auerbach for the most ever.
Jackson, 57, said he intended to return next year and fulfill the final year of the five-year, $30 million deal he signed with the Lakers in June 1999.
He'll probably be working with several new players.
"I would suggest that next year there will be more changes than in years past," general manager Mitch Kupchak said. "We'll do everything we can to upgrade this team.
"I think we have to address our frontcourt, whether it's a backup center or a power forward."
Shaquille O'Neal and Kobe Bryant are two of the NBA's best players, but realistically, few of their teammates this season could make the roster of the deep and talented Sacramento Kings, for example.
"Not for a second do we second-guess what we did," Kupchak said. "We felt comfortable bringing back the group we did. I don't think anybody can argue that we didn't have a chance (to win a fourth straight title)."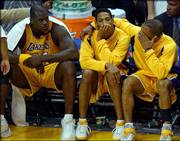 Karl Malone and Scottie Pippen, nearing the end of their Hall of Fame careers, are among those who have been mentioned as possible additions, along with Juwan Howard and P.J. Brown.
Kupchak said the Lakers were at least $23 million over the salary cap but planned to use their $4.5 million mid-level exception for a free agent.
There's a good possibility that Robert Horry and Brian Shaw, key members of the supporting cast since Jackson became coach of the Lakers, won't return.
"Sometimes losing clarifies your position," Jackson said. "It makes it clear what you need to do. It's not an appropriate time to talk about that right now."
Perhaps not, but Jackson added: "We haven't provided ourselves with the best overall personnel we needed for this basketball club. That bore itself out when we had some injuries.
"We have a nucleus that I'm excited about. I'm excited about replacing players who are going to be moving on. I'm very optimistic and the fans should be very optimistic."
O'Neal and Bryant are under contract for next season, as are Rick Fox, Devean George, Derek Fisher, Slava Medvedenko and Kareem Rush.
Fox tore a tendon in his left foot April 27 in the Lakers' first-round victory over Minnesota and probably won't be available when next season begins.
The 37-year-old Shaw will be a free agent, as will Mark Madsen, Samaki Walker and Tracy Murray.
The Lakers hold a $5.3 million option for the 32-year-old Horry and an option for Jannero Pargo, as well.
A playoff hero on several occasions in his career, Horry struggled this postseason, shooting 30-of-94, including a woeful 2-of-38 from three-point range in 12 games.
Copyright 2018 The Associated Press. All rights reserved. This material may not be published, broadcast, rewritten or redistributed. We strive to uphold our values for every story published.