The new house at 1718 Atherton Court doesn't look at all like its neighbors. But that doesn't bother Constance Frazier, who will live there soon.
"We'll have a bit of drive-by, I'm sure," Frazier said of the futuristic steel-sided house. "I think it's awesome to look at. I stood in the front yard and just stared at it."
Frazier's new house was designed and built by Studio 804, a Kansas University class of 19 graduate and undergraduate architecture students. An open house is planned for today.
"I've learned that two lines on a paper look a lot different in drywall," said Lindsey Piant, a student who swept up Friday.
Inside the house, south-facing windows in the living room and two bedrooms are lined with 19 translucent tubes, each containing 47 gallons of water. Students say that in the winter, the water tubes will absorb the sun's heat during the day and will radiate their collected warmth throughout the night.
"We designed it around passive solar technology to reduce the occupants' heating bill," said Lindsey Erickson, another student who helped build the home.
The students also used recycled materials throughout the house. They reused wood from a former Veterans of Foreign Wars post gymnasium as the hardwood floors in the house.
The 1,721-square-foot, three-bedroom house was built on a budget of less than $95,000, paid for by federal money the city made available to Habitat for Humanity and Tenants to Homeowners, Lawrence organizations that help low-income residents achieve home ownership. But students were able to secure donations of materials from local and national companies that brought the value of construction closer to $140,000.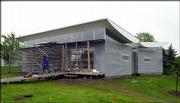 "We worked on the phones to get donations to provide more house than (the budget) would pay for," Piant said.
It's a partnership that benefits Frazier's family, the housing organizations and the KU students.
"We're excited about this process," said Rebecca Buford, associate director of Tenants to Homeowners.
The students said they knew previous classes had been criticized for similar homes built in other neighborhoods, but they are proud of their creation.
"It's easy to give directions to this house," said architecture student Christina Assmann. "It's a pretty stand-out house."
Copyright 2018 The Lawrence Journal-World. All rights reserved. This material may not be published, broadcast, rewritten or redistributed. We strive to uphold our values for every story published.