Clay Auttonberry assumed earning a bachelor's degree in management and finance would land him a job. He just didn't think it would mean working at the same restaurant that employed him while he went to Delta State University.
After testing the stagnant job market, Auttonberry decided to wait out the economic downturn as the manager of Crawdads, the eatery in Marigold, Miss., where he began as a waiter four years ago.
"There's not a whole lot I can do at the present time, with the war and 9-11 and the corporate scandals and those sort of things," said Auttonberry, who had hoped for a decent sales job.
While the National Association of Colleges and Employers said that job prospects for the country's 1.2 million new graduates would be no worse than they were last year, the class of 2003 was still contending with a market that was weaker than when they were enrolling at school. The association said there was a 36 percent drop in corporate hiring from 2001 to 2002.
Some seniors expect to be underemployed, while others are choosing graduate school over working at a job they consider unsuitable.
"What I try to push is that the economy is cyclical," said NACE spokeswoman Camille Luckenbaugh. "This will pass, as it always does."
Enrollment in graduate schools -- which generally drops when the economy is sound -- went up by 5 percent in 2002 and is expected to rise even higher this fall, said Peter Syverson, vice president for research for the Council of Graduate Schools.
Rather than return to school for an advanced degree, recent Indiana University journalism school graduate Bennett Haeberly plans to seek part-time employment until a full-time job opens up.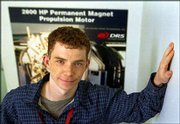 Haeberly believes a positive attitude is key to finding that job.
"There are jobs out there to be had," he said. "It's a matter of getting out there and really persevering over others by taking the initiative to make phone calls and send out e-mails and not be afraid to knock on doors."
College career counselors said that graduates with the best chance of landing a job at a time when the unemployment rate is 10.1 percent for people between the ages of 20 and 24 were those with degrees in engineering and health-related fields -- especially nursing.
With a degree in electrical and computer engineering, Worcester Polytechnic University graduate Andrew Keefe accepted one job, turned down two others and is still being contacted by recruiters.
Keefe, now developing ship propulsion systems for a private power technology company, credits both his major and his resume for vaulting him directly from the Massachusetts engineering school to a regular paycheck. As part of an undergraduate project, Keefe worked in Thailand on the first fuel-cell powered airplane.
"A lot of people are looking for experience that is not ordinary," he said.
Copyright 2018 The Associated Press. All rights reserved. This material may not be published, broadcast, rewritten or redistributed. We strive to uphold our values for every story published.