Olathe — After setting a school record in his first meet this season, Lawrence High senior sprinter Chris Fulton had been slow to increase his 100-meter standard.
Until Friday's Sunflower League Meet at the Olathe District Activities Complex.
There was nothing slow Friday about Fulton, who set Lawrence High marks in the 100 and 200 meters and personal-best times in his anchor legs of the 4x100 and 4x400 relays.
"I knew once we started sprinting work in practice, like we did this week, that I would just take off," said Fulton.
The Lion senior snapped his school record in the 100 with a time of 10.70, before pulling off the feat again in the 200 at 21.29.
"I'm really proud of him," LHS coach Jerry Skakal said. "But it's not just because of the records. He works so hard, and he proves that by how he runs his other races."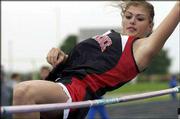 With the Lions easily leading the 4x400 relay, Fulton widened LHS's 20-yard lead to at least 30 on the last lap.
"That's incredible," Skakal said.
So might have been the Free State girls' finish.
After taking sixth last season at league, the Firebirds won Friday's meet with 129 points. FSHS held off second-place Olathe East, which scored 115 points.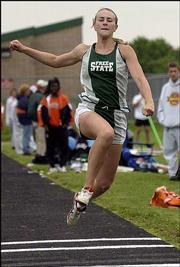 Behind three individual winners, a relay victory and a host of top-five finishers, the Firebirds made their biggest stride of the season.
"They're a talented team that's hungry to compete," FSHS coach Steve Heffernan said. "But tonight they took it to the next level."
On the boys' side, last season's champ Shawnee Mission Northwest won with 133 points. Lawrence took second with 127, and Free State finished third at 97.
Both Skakal and Heffernan thought the boys did as well as expected and said the real test would be next Friday's regional at Olathe North, where the field includes the better teams from Friday's Sunflower Meet and Overland Park Aquinas.
"That's really where you make your money," Skakal said. "I mean, you collect your money at state, but you have to step up to the window to get in line next weekend."
Copyright 2018 The Lawrence Journal-World. All rights reserved. This material may not be published, broadcast, rewritten or redistributed. We strive to uphold our values for every story published.