Jelica Ristic remembers the exact moment when she decided to study in the United States.
She was 7 years old and was growing up in Serbia. She saw an episode of "Dynasty," and the mansion owned by the Carrington family awed her.
"When I saw that huge house, I thought, 'Someday I'm going to see that house,'" she said. "At that age, you think you can do everything. That idea has stuck with me for years."
Sunday, after eight years in Lawrence, Ristic will participate in her third American commencement ceremony -- one at Lawrence High School and two at Kansas University.
She easily could have gone home after a few weeks in Lawrence. The language barrier frustrated her, but her determination and the love of a Lawrence couple convinced her to stay.
'Can't get rid of her'
Ristic, 26, grew up in Prnjavor, Serbia, a town of 8,000 residents. Her father, Sveta, is a high school math teacher, and her mother, Rada, is a retired banker.
Ristic said growing up in Serbia wasn't difficult, though Communist control at the time limited freedom of speech and expression. She always dreamed of something better.
"I think I drove everybody crazy, talking about what it would be like to live in America," she said. "My dad once told me, 'He who flies too high falls too low.'"
In 1996, at age 19, she came to Lawrence as an exchange student at Lawrence High School. She stayed with Gordon and Linda Penny, who have hosted exchange students since 1982.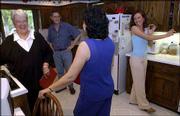 "She was supposed to stay one year," Linda Penny said. "Now we can't get rid of her. I think we're pretty lucky."
School struggles
High school exchange students are supposed to be fluent in English, but Ristic spoke only a few words of the language.
LHS administrators didn't realize that. They looked at Ristic's good grades from Serbian schools and put her in advanced-placement classes.
Those first months were horrible, Ristic said. She remembers her first book in English, "The Scarlet Letter," and looking up each word as she read it.
"I was forced to do the work," she said. "It was stressful. I had headaches every single day for three months. Nobody else here spoke Serbian, so there was nobody to translate for me."
The Pennys spent each night helping Ristic with her homework, often acting out scenes from the United States' past, such as the Boston Tea Party, for her American history class.
"She didn't understand anything," Linda Penny said. "It was like theater, going back and acting everything out."
Within a few months, Ristic understood enough English to do the work on her own.
"She's brilliant," Penny said. "It didn't take her long to learn at all."
Light in tunnel
Ristic said she knew within a few weeks of coming to Lawrence that she wanted to stay in the United States for college.
Breaking the news to her parents in Serbia was difficult.
Rada Ristic, who is in Lawrence for her daughter's graduation, said it was hard to allow Jelica -- pronounced "ya-LEET-zah" -- to be away for more time.
"We weren't really happy with her decision, but we didn't want to stop her," Rada Ristic said through an interpreter. "The main thing that bothers us is she's so far from home. It's hard to see each other."
That separation was especially difficult in 1999, when NATO forces were bombing Belgrade in an effort to oust President Slobodan Milosevic.
"It was awful," Jelica Ristic said. "Airplanes leaving from here were dropping bombs on my family."
She wanted to go home, but her family urged her to stay.
"They said, 'Don't you know you're our only light in this dark tunnel?'" she said.
International focus
After attending Cottey College in Nevada, Mo., for two years, Ristic transferred to KU and graduated with degrees in business and Spanish in 2000. She worked a year completing export documentation for Phoenix International Freight Services in Kansas City, Mo., before returning to graduate school at KU.
After graduation Sunday, she'll start as a financial analyst at Payless ShoeSource headquarters in Topeka. Bill Beedles, a KU business professor, said Ristic's background would help her career.
"It'd be natural for her to focus on international trade," he said. "She has a huge advantage of having seen more than one economic system up close. She'll be able to take that training and those values all over the world."
Two mothers
Beedles said Ristic owes much of her success to the Pennys.
"She has such a great love and admiration for her host family," he said. "They couldn't have been more gracious to someone in an awkward situation."
Except for her time at Cottey College, Ristic has stayed with the Pennys for eight years. The Pennys have paid for most of her college education.
"I'd never been to a foreign country before," Ristic said. "This family, they accepted me as their daughter."
Ristic plans to move into an apartment in Lawrence after graduation. Linda Penny said it would be a difficult move.
"I'm really excited for her, but it's always hard when one of your children leaves the nest," she said.
Ristic said Sunday's graduation would be especially touching because both her mothers -- her biological mother and Penny -- would be there. Rada Ristic's trip is the first time a family member has come to the United States to visit Jelica.
Rada Ristic recalled the first moment last month that she met the Pennys.
"I was very pleased," she said. "They were like seeing your old friends or old family members you haven't seen in years, only we'd never met."
Though being away from family is difficult, Jelica Ristic said she has no plans to return to her home country, in part because government control there still limits freedom in business and personal lives.
"I really would not want to go there, as long as the system is this way," she said. "If I hadn't ever left Yugoslavia, it might be different. But I've been here eight years. I know there's a better thing. For me, going back would be a step back instead of going forward."
Copyright 2018 The Lawrence Journal-World. All rights reserved. This material may not be published, broadcast, rewritten or redistributed. We strive to uphold our values for every story published.