PERRY LAKE — The biggest show in the skies on July 4 this year over Perry Lake likely will be provided by Mother Nature.
After eight years, organizers have called off the annual Fourth of July fireworks display, which last year drew an estimated 100,000 people to the lake northwest of Lawrence.
The fireworks show, billed as the biggest in northeast Kansas, is the latest victim of post-9-11 terrorism worries by the U.S. Army Corps of Engineers and financial concerns by Lake Perry Yacht & Marina, the event's sponsor.
"This is kind of like losing your kid," said Bob Best, marina owner. "We're really disappointed, and we're sorry about it, but there are a multitude of reasons why."
During the past year, the marina has seen dramatic insurance and property tax increases, Best said.
The marina, which was hit by tornadoes twice in the mid-1990s and an ice storm last year, saw its property insurance bill increase by $75,000 in 2002, Best said. He noted that the fireworks budget for the display last year was $50,000 and the extra insurance costs hit heavily.
"When we got hit with that (insurance bill), we were like, 'Oh, my God, what do we do now?'" Best said. "We decided to go ahead and have it, anyway."
Since then, the marina's employee health insurance has increased by 40 percent and the property tax bill increased by $7,000, Best said. He has yet to receive this year's property insurance bill.
"We've put up the expenses for this for eight years, and we just don't think we can do it anymore," Best said of the fireworks display. "We know people will be disappointed."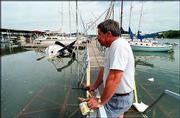 Because of terrorism security concerns, Best said he was told the Army Corps of Engineers probably wouldn't give its approval this year for the display.
The fireworks were shot off from the lake's dam, which the corps reluctantly allowed last year.
Frank Funk, the corps lake operations manager, concurred.
"If something had happened last year to increase the national security alert level, it could have been called off within an hour, but that wouldn't have been good," Funk said.
Jefferson County Sheriff Roy Dunnaway also had been worried about security at the event.
Last year, the department's bomb-sniffing dog joined security efforts. In addition to sheriff's officers, security was provided by park rangers, the Kansas Highway Patrol and firefighters from the county's fire departments, Dunnaway said. In all, he estimated about 40 people were involved.
"We had two or three things we were trying to keep an eye on that night," Dunnaway said.
Best held out hope the fireworks display would return.
"Maybe it will come back later," he said. "We want to thank everybody who came out."
Copyright 2017 The Lawrence Journal-World. All rights reserved. This material may not be published, broadcast, rewritten or redistributed. We strive to uphold our values for every story published.