A Lawrence landmark is for sale.
Faced with aging membership and ever-increasing costs, Lawrence-area Freemasons have decided to sell the majestic Scottish Rite Temple, 1001 Mass.
"This isn't something that any of us want to do. It hurts," said Tom Wilkerson, the organization's executive secretary. "But we've projected out the costs of operations, and we know we can't continue to draw on our resources like we have. It has to be done."
The asking price: $775,000.
The buyer will have the option of also buying the buildings that house the Scottish Rite office and The Variety Store at 1005 and 1007 Mass., respectively.
"We'll entertain any proposal received," Wilkerson said.
Built in 1911, the Egyptian Revival-style building features several meeting rooms, a 275-seat auditorium and balcony, and, in the basement, a dining room that's 55 feet wide and a half-block long.
A kitchen, too, is downstairs in an area carved out from underneath the sidewalk alongside the north side of the building. The building does not have an elevator.
Suspended above the auditorium's stage are 55 backdrops -- each painted long ago by art students from Kansas University -- that are raised or lowered in accordance with the particular Scottish Rite ceremony being performed.
"We'll keep those," Wilkerson said.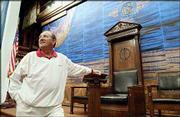 Generating interest
The building is listed with Coldwell Banker McGrew Real Estate.
"There's been quite a bit of interest in it," said Doug Brown, the Realtor assigned to the property. "The fact that the building has historic significance and that it's on Mass. is quite a draw for investors."
Brown said the building was "incredibly well-built" and could be converted to a variety of uses.
"The upstairs, maybe, could be turned into apartments; the downstairs to retail," he said. "It would be a great place for receptions."
"Or an upscale restaurant," said Carol vonTersch, president of the Lawrence Preservation Alliance. "There's been talk of that in the past, but, at the time, the Masons weren't ready to sell."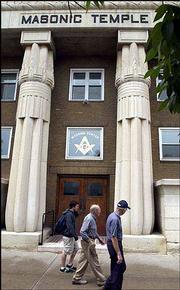 The Alliance, vonTersch said, hoped to work with whoever buys the building.
"It's a very important building in the downtown area. People remember that building," she said. "We're exceedingly concerned about what's to happen to it, I can assure you of that."
It's not yet known where the Masons will go after the building is sold.
"A committee has been appointed that'll make that decision," Wilkerson said. "A lot of it's going to depend on whether the buyer wants the buildings next door. If they don't, we'll probably move into where The Variety Store is now; if they do, we'll either buy a building or build something new."
Old age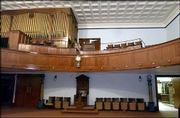 Wilkerson said about 500 men and women belong to the masonic lodges and auxiliaries that use the temple. Most are unable to attend the monthly meetings.
"Our mean age is 66," he said of the membership. "That's pretty old."
Wilkerson attributed the decline in membership to lackluster recruiting and increased demands on members' time.
"It's a sad thing to say, but being in a fraternal organization takes away from a person's family time and, over the years, that's just gotten harder and harder to do," he said. "All the service organizations are going through the same thing."
The Scottish Rite of Freemasonry is a fraternal organization dedicated to the premise of making men better through service to God and community.Its auxiliaries have similar goals for women.Lawrence area lodges belong to the "Valley of Lawrence," one of seven groupings in Kansas.The Lawrence Scottish Rite Temple is the state's second-oldest temple. The oldest is in Leavenworth.
Wilkerson says the Mason's reputation for secrecy far exceeds reality.
"Actually, we kind of joke about that," he said. "Our meetings are closed, that's true. But if somebody really wanted to know what was going on, they could just go to the library. Books have been written about it."
Wilkerson there's nothing secret about the building. "We rent it out for receptions and things," he said. "And before we decided to sell, we'd talked about opening it up to public for tours or ham-and-bean lunches."
Copyright 2018 The Lawrence Journal-World. All rights reserved. This material may not be published, broadcast, rewritten or redistributed. We strive to uphold our values for every story published.