Embattled Kansas University professor Dennis Dailey told students in his human sexuality class they had been wronged by the controversy surrounding his teaching methods.
"It's unfortunate that your opportunities for learning may have in some way been fouled by this experience," he said Wednesday during his last class of the semester.
O'Reilly's attack on KU sex-ed class continues with help of former student
Though silent for much of the debate, now in its sixth week, about his classroom use of explicit videos and street language, Dailey said he didn't want the course to end without "saying some stuff about some of the hurt that's gone on."
With that, he offered sympathy to:
Those living in fraternities who had been teased about taking part in "Porn Night," despite the fact such an event doesn't exist.
Students who had been chastised for being in a class characterized as "Pedophilia Day," when the class actually dealt with sexual abuse and abnormality.
Teaching assistant Teresa Scalise, for being anonymously accused of hugging Dailey in an unprofessional manner.
"That was an assault on her reputation, and for that, I am extraordinarily disappointed," Dailey said, adding that he thought Scalise's accuser owed her an apology.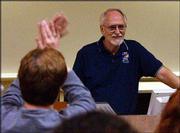 "But I don't think you're going to get one," he added, prompting an outburst of applause from the 300 students in the class.
"The only thing I can think of to make it better would be to offer to give her a hug myself," Dailey said. He and Scalise shared a quick embrace, triggering a standing ovation.
"The O'Reilly Factor"
Dailey told Nicole Denney, a Leavenworth freshman who uses a wheelchair, he regretted she was exposed to Fox News Channel's Bill O'Reilly referring to one of the class sessions as "Wheelchair Sex Day," even though the day's discussion focused on society's tendency to view some people as sexually irrelevant.
"Every time I heard that phrase -- Wheelchair Sex Day -- my heart bled," said Dailey, who appeared close to tears.
Turning to Denney, he added, "Young lady, I don't know how on Earth you managed that kind of assault on your reality, on what is your life."
Afterward, Denney, 19, said it was ironic Dailey's critics had accused him of classroom insensitivity.
"What (O'Reilly) and the others have said is a lot more insensitive than anything Dr. Dailey has ever said," Denney said.
An automobile accident three years ago left her paralyzed below the waist, she said.
"I'm glad Dr. Dailey said what he did -- disabled people having sex is just as normal as nondisabled people having sex," she said. "People need to hear that."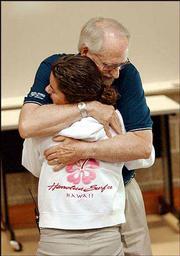 Jessica Zahn, a student in the class who supplied Dailey's harshest critic, Sen. Susan Wagle, R-Wichita, with regular accounts of classroom happenings, sat on the front row.
When the class ended, Zahn left without comment. She could not be reached later by telephone.
Zahn appeared on the April 29 edition of "The O'Reilly Factor" with Wagle.
Wagle's success
Wagle drew attention to Dailey's class on the floor of the Kansas Senate, condemning the professor in strong terms and successfully offering an amendment aimed at cutting funding to the KU School of Social Welfare. Gov. Kathleen Sebelius later vetoed the amendment. But Wagle succeeded in getting another proviso attached that requires universities to submit to the Kansas Board of Regents their policies regarding guidelines for sexually explicit courses and sexual harassment.
Dailey's comments lasted about 10 minutes. He spent the remaining 65 minutes of class reviewing a list of ways for young people -- heterosexual or homosexual -- to know when they're ready for sexual intercourse.
In frank terms, Dailey discouraged intercourse if:
"Either party felt objectified" or feared "feeling guilty when it's over."
One partner was pressuring the other.

There wasn't enough communication to openly discuss the consequences of an unwanted pregnancy or a sexually transmitted disease.
Dailey also showed "Marsha and Harry," a 10-minute video featuring hand puppets posing as a vagina and a penis during their first sexual encounter.
He closed the class with an emotional reading of Dr. Seuss' "Oh, The Places You'll Go," a children's book about the perils and joys of growing up.
Student praise
Upon finishing the book, students gave Dailey a standing ovation.
"This class has meant so much to me," said Beth Chronister, a Topeka freshman. "It's really changed my thinking in a lot of ways -- in ways that make sense. It's so relevant to where I'm at right now."
Sarah Sikes, a Springfield, Va., senior majoring in textiles, welcomed Dailey's provocative approach.
"This class is so much more about what's going on in real life -- it's not like the sex-ed courses we had in high school, which were pretty much anatomy-based," Sikes said.
Few students appeared as baffled by the controversy as Amy Boydston, an Overland Park sophomore taking pre-med classes.
"I'm a Christian," she said, "and I know that a lot of people have negative opinions about what goes on in class, but I don't agree with that. What I've gotten out of this class far outweighs the negatives -- you just have to take that other stuff with a grain of salt."
Boydston said she'd noticed that many of Dailey's lectures promoted Christian beliefs.
"He doesn't put a 'Christian' label on it, but -- like today -- he wasn't encouraging sexual intercourse. If you listened to what he was saying, he was telling people to wait."
Copyright 2018 The Lawrence Journal-World. All rights reserved. This material may not be published, broadcast, rewritten or redistributed. We strive to uphold our values for every story published.