Williamsburg, Va. — Grace Park's first shot Sunday was a drive into the water that led to a double-bogey. Her last one of the round was a beauty, a double-breaking par putt of nearly 20 feet that gave her a one-stroke victory in the inaugural Michelob Light Open.
Park began the day with a one-stroke lead over Cristie Kerr, but immediately gave it away with the double-bogey on No. 1, a bogey on 2 and a bogey on No. 4 that included a shank into the gallery.
But she rallied for consecutive birdies on holes 5-7, and her par save on 18 left her one stroke in front of three players and gave her a fourth tour victory.
After her rotten start, "I literally said it to myself: 'Believe in yourself.' ... If it's meant to be, things will come your way," she said.
Park finished Sunday with an even-par 71 and was 9 under for the tournament, a stroke ahead of Kerr (71), Karrie Webb (67) and Lorena Ochoa (69).
Annika Sorenstam shot her third straight 70 and finished in sixth place at 6 under. Mi-Hyun Kim closed with a 68 and finished fifth.
Kerr led for most of Sunday and had a two-stroke lead with four holes remaining, but was foiled in her attempt to become the first American to win an LPGA event in nearly 10 months when she made bogeys at the par-5 15th and again at 16.
Meg Mallon was the last U.S. golfer to win a women's event, the Canadian Women's Open in mid-July.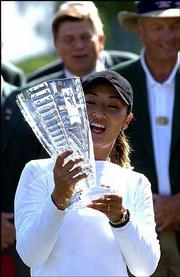 Kerr had played the par-5s brilliantly all week, going 10 under on the holes until she bogeyed 15.
"I felt really good about the way I was striking the ball out there. Unfortunately, coming down the stretch I hit two bad shots," she said.
Kerr gave credit to Park, her playing partner and good friend, for reviving her round.
"I was trying not to watch. ... She had a horrible start," Kerr said of Park, who will be a bridesmaid at Kerr's upcoming wedding. "A lot of people would have given up."
Needing only par at 18 for the victory, Park drove into the rough, missed the green with her second shot and chipped to 20 feet. Kerr, meanwhile, had a 35-foot putt for birdie that would have given her the victory if Park couldn't save par.
"I thought I had a putt to win. It was a tough shot, but if I had made it and Park missed, I would've won," Kerr said.
Copyright 2018 The Associated Press. All rights reserved. This material may not be published, broadcast, rewritten or redistributed. We strive to uphold our values for every story published.