The first thing you notice is the heat.
The temperature inside the 1,200-square-foot studio is 105 degrees. Entering it is like walking into your garage at the end of a hot summer day.
It catches you by surprise, and, within minutes, you're already perspiring.
But the people who practice Bikram's yoga -- a fast-paced series of poses performed in a hot room -- wouldn't have it any other way.
"I think it's torture, but I hate the way I feel without it: big, fat and old. But with it, I feel like Peter Pan, like I can fly," says Suzy Novotny, a Lawrence realtor who's been coming to Bikram's Yoga College of India, 711 W. 23rd St., in The Malls shopping center, for about six months.
"Without Bikram's, my knees snap and crack; I get heartburn, headaches and joint pain, because I'm 40, right? But when I come (to do yoga), my health is 100 percent. I sleep better, I breathe better, I digest food better and I have more energy."
After a couple of sessions of Bikram's yoga, says Elizabeth Marshall, director and owner of the studio, people not only become accustomed to the heat but learn to prefer it.
"Every session, someone says, 'Did you turn the heat down? It's too cold in here,'" Marshall says, laughing.
You could almost say that practitioners of Bikram's yoga become addicted to this kind of a steamy workout.
That's the case with Kristin Werner, 21, a Kansas University junior who works at Bikram's Yoga College of India in trade for getting to come to sessions for free.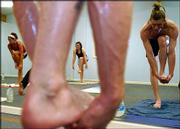 "My life would be over without it. When I don't have it, my body aches for it. My three favorite things to do are eating, sleeping and doing yoga. And if you do Bikram's, you can eat whatever you want to," says Werner, who attends sessions at the studio three to four times a week.
What about the heat?
"I love it. It just feels good to sweat," she says.
Works every body system
Bikram-style yoga, while new to northeast Kansas, is exploding in popularity elsewhere around the nation, especially on the West Coast, where it's become a staple for many people.
There are now hundreds of Bikram's yoga studios across the country, with more opening all the time. Marshall opened her studio in August 2002.
This style of yoga was developed by Bikram Choudhury, a former weightlifter from India, in 1974 as a way to recover from a sports injury he suffered when he was 20.
With the guidance of his guru, Bishnu Ghosh, Choudhury went on to create a different kind of hatha yoga, featuring 26 poses (or asanas) and two breathing exercises (pranayamas), performed in a room heated to 105 degrees.
Bikram's yoga sessions last 90 minutes and always move through the same order of poses. Choudhury has actually copyrighted the routine and the instructor's dialogue that goes along with it.
The reason for the heat is to warm the body's muscles, tendons and ligaments, making it easier to stretch and hold the yoga poses. It's also believed to help flush toxins from the body through sweating.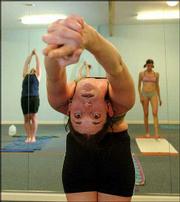 Today, in Choudhury's school in Los Angeles, he trains people to become certified to teach Bikram's yoga, an arduous process that takes nine weeks of 13-hour days.
Marshall, 43, has gone through the certification to teach Bikram's yoga. She's been practicing this style of yoga for about 10 years, and met and trained with Choudhury about four years ago.
"Obviously, the first thing everybody says is, 'It's hot,'" Marshall says of people who first try Bikram's yoga.
"Bikram's has a direct lineage to India. It's traditional, hatha yoga, which was developed to heal the body. What's different about it is the 26 postures done in exactly the same sequence -- which works every system in the body -- and the heat."
Bikram's yoga can prove beneficial to anybody, Marshall says, and the temperature of the room shouldn't pose a health problem for most people.
"It takes a few classes to get used to the heat. It's very normal for people, sometime in their practice, to come into class and feel nauseous, dizzy, like you're going to pass out," she says. "No one has ever passed out on me. You stand still, you breathe, and it passes. Everyone comes to love the heat."
Sweat-soaked session
In her classes, Marshall wears a headset microphone, like the kind worn by aerobics instructors, to lead her students through the Bikram's postures.
She blends humor with steely motivation.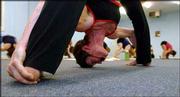 "We make the choice," she says. "We choose to come in here and suffer in Bikram's torture chamber for 90 minutes so that our bodies don't have to suffer for 90 years. It is a myth that the body has to fall apart as you get older."
As the class proceeds, students begin to look like they're melting -- faces red, hair mussed, glistening with dots of sweat like the condensation on a glass of iced tea on a hot summer day.
Everyone is perspiring. And soon, jog bras, gym shorts and T-shirts are soaked.
By the end of class, all the students, including the men, look as if they've gone through childbirth.
That's OK. It's how you're supposed to look after a session of Bikram's.
"I've been coming here three months. I come every day," says Bill Rector, 27, a Lawrence resident who's become a firm believer in this style of yoga and its healthful effects on the body.
"I think it's wonderful. You see everybody smiling when they're leaving, so you know it's right."
Copyright 2018 The Lawrence Journal-World. All rights reserved. This material may not be published, broadcast, rewritten or redistributed. We strive to uphold our values for every story published.