That old baseball cliche got a new boost of truthfulness Saturday.
"We all know," Kansas University coach Ritch Price said, "that good pitching will top good hitting."
The Jayhawks, boasting one of the Big 12 Conference's top offenses, were completely overwhelmed in a 5-1 loss to Texas Saturday at Hoglund Ballpark. Longhorns starter J.P. Howell, who is having the best season in UT's solid starting rotation, did plenty to baffle Kansas hitters, but even his efforts were outdone by the man who relieved him.
Longhorn closer Huston Street faced the last seven KU batters and struck out six of them. Only senior Casey Spanish made contact, hitting a soft liner to the second baseman to close out the eighth inning.
Street, the MVP of the College World Series last season, improved to 4-0 with the victory, and he even poked a single to left field in the ninth inning.
"We didn't put a good swing on him in three innings," Price said. "He absolutely dominated us. He showed why he's the best reliever in the country."
Street entered in the bottom of the seventh with the score tied at 1. Freshman Ritchie Price was the potential go-ahead run on first base, but Street ended the threat by striking out Ryan Baty.
"Huston came in at a crucial time and struck out their best hitter," Texas coach Augie Garrido said. "That's where we got the momentum."
Texas scored two in the top of the eighth and two more in the ninth, and Street made sure Kansas didn't have an attempt to rally.
Howell struck out nine batters in 6 2/3 innings. The two combined to stain an impressive outing by KU pitcher Chris Smart, who allowed just three runs and six hits in 7 2/3 innings. He fell to 1-4.
"I don't know if you can be real happy," Smart said of his solid start. "We still got the loss."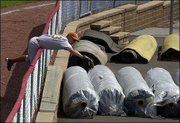 Kansas (33-20 overall, 8-12 Big 12) had a hit each by seven different players. Junior Matt Tribble drove in Baty in the third inning for the only Kansas run. After the third, no Kansas player advanced past first base.
"Their pitching was outstanding," Price said. "They made us look awful at times."
The focus now turns to what could be quite a pitcher's duel at 1 p.m. today at Hoglund Ballpark. Texas will start All-American Justin Simmons, who, while just 4-4 this season, went 16-1 a year ago and recently has returned to form. Junior Ryan Knippschild (8-3, 4.91 ERA) will start for Kansas.
"We're going to have to do everything we did today," Price said. "We have to pitch as well as we did and play as good of defense in order to have a chance."
Texas 5, Kansas 1
Texas 000 001 022 -- 5 9 1
Kansas 001 000 000 -- 1 7 0
W--Huston Street (4-0). L--Chris Smart (1-4).
HR--Texas: Eric Sultemeier (9).
KU highlights: Ryan Baty 1-for-3, R; Matt Tribble 1-for-4, RBI; Chris Smart 72¼3 IP, 3 ER, 3 K.
Copyright 2018 The Lawrence Journal-World. All rights reserved. This material may not be published, broadcast, rewritten or redistributed. We strive to uphold our values for every story published.