Baltimore — Sir Sidney Ponson pitched a game befitting his recent ascension into royalty.
Runelvys Hernandez, meanwhile, complained that he received unfair treatment because he's a Royal.
Ponson capped a memorable week by allowing five hits over eight innings, and the Baltimore Orioles beat Hernandez and the Kansas City Royals, 6-1, Saturday.
Ponson (3-2) struck out nine and walked one before being replaced by Kerry Ligtenberg, who completed the six-hitter.
Ponson began the week by defeating Tampa Bay Sunday. Tuesday, the Aruba native was decorated in his homeland as a Knight in the Order of the Dutch Royal House. Finally, Sir Sidney outpitched one of the most effective starters in baseball this season.
"Just because I was knighted, that doesn't give me any privileges," Ponson said. "I still have to throw strikes and get people out. My job is to go out there and give us the best chance to win."
Ponson, who threw 115 pitches, allowed only one runner past second base and did not give up a hit after the fifth inning.
"Sidney kept focused. He didn't let the little things distract him," Orioles manager Mike Hargrove said. "He was on top of his game today."
Jeff Conine homered, drove in two runs and scored twice for the Orioles, who became the first team this season to score more than three runs against Hernandez (4-1).
Hernandez came in with an AL-best 1.36 ERA and was looking to become the first Royals pitcher to open 5-0 since Bret Saberhagen in 1987. But Hernandez yielded four runs -- three earned -- and seven hits in seven innings.
He said he didn't get any calls from home plate umpire Andy Fletcher, who ejected Kansas City manager Tony Pena in the seventh.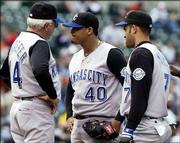 "I make a good pitch, they don't want to call it because we are the Kansas City Royals," Hernandez said. "We try to play better every day and work hard every day, but that happens with our pitchers. They don't want to call the pitch for us."
At one point, Hernandez walked off the mound toward the plate after Fletcher called a ball on a close pitch.
"The only thing I asked the umpire is if the pitch is in the strike zone," Hernandez said, "and he tells me don't fight with me."
Hernandez, who allowed only six earned runs in his first six starts, now has an ERA of 1.74.
On this day, he was no match for a focused, highly effective Ponson.
"I have to say he's the toughest guy we have faced this year," Pena said.
The Orioles got a run in the first when Jerry Hairston walked, took third on a double by Melvin Mora and scored on a sacrifice fly by Conine.
Raul Ibanez hit a sacrifice fly following singles by Desi Relaford and Mike Sweeney to make it 1-1 in the fourth, but Baltimore took the lead for good by scoring twice in the bottom half.
Conine reached on an error, and Jay Gibbons doubled before Tony Batista hit a run-scoring grounder and B.J. Surhoff grounded an RBI single up the middle.
When: 12:35 p.m today.Where: Oriole Park at Camden Yards.Television: Channel 38 (Sunflower Broadband channel 15).Pitchers: Chris George (3-2) vs. Eric DuBose (0-0).K.C. record: 18-9.
Conine led off the sixth with his third homer for a 4-1 lead. Batista singled in a run, and Surhoff hit an RBI double in the eighth against Ryan Bukvich.
Surhoff pulled up at second base with a hamstring injury and was removed from the game. His status will be evaluated today.
Notes: The Orioles activated DH David Segui (hamstring) off the 15-day disabled list and placed RHP Rodrigo Lopez (strained ribcage muscle) on the 15-day DL. ... KC's Carlos Beltran was a late scratch with a sore right shoulder, and 1B Ken Harvey left in the fourth inning with a sore back. ... Hairston was caught stealing for only the second time in 12 tries this year. ... Ponson is 3-0 with a 1.64 ERA in his last three starts against KC.
Copyright 2018 The Associated Press. All rights reserved. This material may not be published, broadcast, rewritten or redistributed. We strive to uphold our values for every story published.