The rusty, metal pipelike device was just what Herbert Timm needed.
Timm, 53, of Platte City, Mo., paid $2 for what he said was a Ford Model T windshield post, which he found at Saturday's Swap Meet at the Douglas County 4-H Fairgrounds. It will fit one of four Model T's he has been restoring.
"I'll probably spend about $200 on stuff today that most people wouldn't even bother to haul off," Timm said.
Earlier Timm found a couple of car doors he said would fit a 1924 Ford Coupe he also is restoring.
"This just keeps me out of trouble," Timm said of his hobby.
Timm wasn't alone. Hundreds -- perhaps thousands -- of people attended the first day of this year's Swap Shop to pour over old auto parts and a few antique cars. Gates to the event opened at 6 a.m., and by 9:30 a.m. traffic in the area of 19th and Harper streets was backed up in all directions as people scrambled to find a place to park.
Alan Seaton, 45, came all the way from Quincy, Ill., to conduct his auto parts search. He bought some chrome for a 1973 Pontiac Grand Am he is restoring.
"There's always a small chance I might find something I can use," Seaton said. "There's so much here it's almost too much to take in."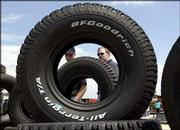 Seaton paused to look over a late 1980s Chevrolet Monte Carlo that looked as though its best days were well behind it.
"It's restorable," Seaton said. "If I didn't have the Grand Am I might think about it."
Ron Payne has been setting up a booth to sell auto parts at the annual Swap Meet for 30 years. He said he specialized in old, hard-to-find parts. It was his table where Timm found the windshield post.
"There's nothing on this table that's newer than 1950," said Payne, 63, of Sabetha.
The Swap Meet, sponsored by the Lawrence Region Antique Automobile Club of America, is open from 7 a.m. to noon today.
Copyright 2018 The Lawrence Journal-World. All rights reserved. This material may not be published, broadcast, rewritten or redistributed. We strive to uphold our values for every story published.