Someone spray-painted antiwar graffiti along the city's main drag overnight.
The vandal or vandals dotted businesses, alleys and walls along Massachusetts Street with black peace signs and the words "Peace Now."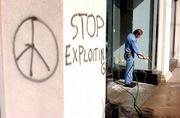 Businesses vandalized include Jefferson's Restaurant, 743 Mass., which has a peace sign in its logo, Starbucks Coffee, 674 Mass., and Carlson Wagonlit Travel, 800 Mass., among a handful of others.
One business owner said he feels the protest was poorly targeted.
Marq Conner's business, Haas Rentals, owns the building that houses The Topiary Tree, 716 Mass.
"I'm opposed to the war, but there are ways to protest the war that don't involve damaging other people's personal property or public property for that matter," Conner said. "This is going to cost me $200 to $500 to fix, and I don't think it was worth it."
Conner suggested that whoever was writing the graffiti should find a more productive means of protest-- or at least choose better targets.
"My point of view is this: if you're going to be going after the whole civil disobedience thing, why are you targeting the property of people who, like me, are opposed to the war?" he asked.
"If you want to protest a government action, protest the government. Go spraypaint the White House if you can get away with it."
At least one pedestrian on Massachusetts Street said he supported the graffiti protest despite the inconvenience to business owners.
"It's gonna cost them a little bit of money, but hey, it's war," said Daniel Edwards, 19, who was hanging out at the corner of Ninth and Massachusetts streets. "You've got to do extreme measures sometimes."
Copyright 2018 The Lawrence Journal-World. All rights reserved. This material may not be published, broadcast, rewritten or redistributed. We strive to uphold our values for every story published.