Greensboro, N.C. — North Carolina State just wanted one more chance against Wake Forest after a certain victory over the Demon Deacons slipped away last week.
The Wolfpack's wish was granted in the semifinals of the Atlantic Coast Conference tournament, and N.C. State made the most of the meeting, beating No. 9 Wake Forest, 87-83, Saturday to advance to the ACC finals for the second straight season.
The win came exactly seven days after the Wolfpack blew an 11-point second-half lead in the regular-season finale and allowed Wake Forest star Josh Howard to shoot six free throws in the final 1.7 seconds to win the game.
"Last week's loss really struck us hard," said Julius Hodge, who scored a career-high 31 points Saturday. "It was like a rib shot to us, and it really hurt."
The loss probably eliminated any chance the ninth-ranked Demon Deacons (24-5) had of earning a No. 1 seeding in the NCAA Tournament.
Coming off its first outright ACC regular-season title in 41 years, Wake Forest was trying to win its first league tournament championship since Tim Duncan-led squads did it in 1995 and 1996.
"Maybe they were hungrier than we were," said Wake Forest guard Taron Downey, who scored 18 points. "But that's not an excuse. Either way, we'd much rather be playing tomorrow than watching them on TV."
But the Wolfpack (18-11) will be playing, instead -- back in the championship game for the second straight year and third time in coach Herb Sendek's seven seasons.
N.C. State, which lost by 30 points to Duke in last year's final, will play the Blue Devils again. Duke beat North Carolina, 75-63, Saturday to advance.
Howard was saddled with foul problems most of the game and had his second poor shooting night of the tournament. He had 21 points and 12 rebounds but scored just seven in the second half. He finished 6-of-21 from the floor and missed four of his five three-point attempts.
"I just didn't hit some open shots that I had," Howard said. "That's it."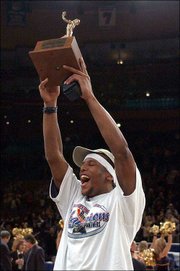 No. 2 Kentucky 78, Auburn 58
New Orleans -- Erik Daniels came back from a scary fall to score 17 points, and Kentucky blew out Auburn in the second half of their Southeastern Conference tournament semifinal. Auburn hung close in the first half, but Kentucky (28-3) outscored the Tigers 42-22 during the final 20 minutes to win its 22nd game in a row. The Wildcats will meet Mississippi State in today's title game. Auburn (20-11) will spend a nervous day waiting to see if it has done enough to make the NCAA field for the first time since 2000. The Tigers were No. 39 in the RPI rankings and played an extremely weak nonconference schedule.
No. 5 Pittsburgh 74, Connecticut 56
New York -- Pittsburgh's three seniors led the school to its first Big East tourney championship in their third straight title game. Brandin Knight, limping on an injured ankle, Donatas Zavackas and Ontario Lett all got to share in the celebration for the first time, following the Panthers' victory over Connecticut at Madison Square Garden. The Panthers (26-4) ended their two-title game losing streak with their defense, the seniors' leadership and big contributions from some of the underclassmen. Connecticut (21-9), which beat Pittsburgh 74-65 in double overtime in last year's championship game, managed just six points over the final six minutes as the Panthers pulled away.
No. 12 Duke 75,
North Carolina 63
Greensboro, N.C. -- Duke moved into position for a fifth straight Atlantic Coast Conference tourney title, getting 19 points from Daniel Ewing in the tournament semifinals. The Blue Devils (23-6) shot 61 percent in the first half to go up by 21 at the break, avenging a three-point loss to the Tar Heels six days ago in Chapel Hill. They next face N.C. State. Raymond Felton led the Tar Heels (17-15) with 18 points, while Jawad Williams added 13.
No. 13 Illinois 73, Indiana 72
Chicago -- Brian Cook scored 25 points and hit two free throws with 5.2 seconds left as Illinois held off Indiana's late charge in the Big Ten semifinals. Illinois (23-6) will play Ohio State today for the title and the automatic NCAA Tournament bid. The surprising Buckeyes won their third straight Saturday, beating Michigan State 55-54. Indiana (20-12) probably assured itself of an at-large NCAA berth. Tom Coverdale scored 19 of his 21 points in the second half, making four three-pointers, for Indiana.
No. 20 Louisville 83, Alabama-Birmingham 78
Louisville, Ky. -- Luke Whitehead's 17 points and 14 rebounds led Louisville to the Conference USA tournament championship. The 6-foot-7 junior had double-doubles in all three of the Cardinals' games, finishing with a tournament-record 37 rebounds, and was selected the tourney's MVP. In winning its first league tournament title since 1995, Louisville (24-6) got plenty of help from a pair of freshmen: Taquan Dean scored 15 points, Francisco Garcia 14. Morris Finley scored 20 points, and Demario Eddins had 18 points and 12 rebounds for the Blazers (19-12).
No. 22 Dayton 79, Temple 72
Dayton, Ohio -- Sean Finn scored a career-high 20 points as No. 22 Dayton put the finishing touch on its best home season for its first Atlantic 10 tournament title. It was Dayton's first tournament championship of any sort since 1990, giving the Flyers (24-5) their first NCAA berth since 2000. It came in the most appropriate setting. The Flyers went 17-1 at home, their highest victory total in any of UD Arena's 33 seasons. Brian Polk made his first six shots in the game, including four three-pointers, and finished with 22 for Temple (15-15).
Copyright 2018 The Associated Press. All rights reserved. This material may not be published, broadcast, rewritten or redistributed. We strive to uphold our values for every story published.